5 Reasons to Be Thankful for Reusable Bags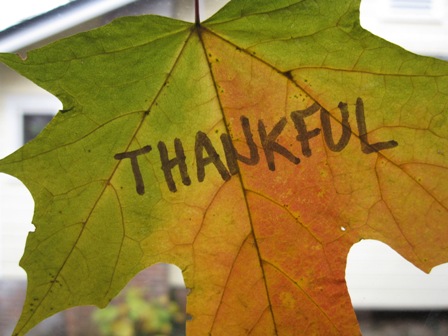 There is so much to be thankful for and we consider ourselves lucky to have such an abundance of great people and good things happening in our lives. While thinking over everything we're thankful for that got us thinking about just how thankful we are for reusable bags, so we thought we'd put together a list of the 5 reasons we're thankful for reusable grocery bags!
Reusable Bags Keep Trash Out of Landfills. Reusable shopping bags reduce the need for disposable bags, which are very likely to end up in landfills where they will sit pretty much forever since they are not biodegradable. Recycling rates are on the climb, so a substantial amount of the single-use plastic bags unleashed on the world are recycled, but the best estimates indicate about 12% of the thin plastic put into circulation is recycled. This means a whopping 88% of disposable plastic bags are not recycled and are probably destined for a landfill. One reusable bag will eliminate the need for hundreds of disposable bags and that will mean fewer bags will end up in landfills.
Help Support Ecosystems by Using Reusable Grocery Bags. A reduction in the amount of single-use plastic bags isn't just good news for landfills, it is also good news, or rather great news for ecosystems. Plastic bag litter destroys habitats and is a major danger for animals. From damaging food sources to being mistaken for food, nothing good comes from introducing disposable plastic bags into habitats and food chains and once a bag becomes litter it can end up anywhere. By eliminating thin plastic bags animals and their homes are kept out of harm's way.
Reusable Shopping Bags Utilize Reusable or Sustainable Materials. The merits of reusable and sustainable materials are many. Reusable materials repurpose resources like plastic that would otherwise end up as litter or trash in a landfill. By giving these materials a new use and function they can still be useful and do not damage the planet. Sustainable materials are natural plant fibers that can be grown, harvested and manufactured into fabric. Sustainable plant-based products are green because during the growing process all plants convert greenhouse gases into breathable oxygen and the finished product is biodegradable. Using recycled or sustainable reusable shopping bags will minimize your carbon footprint.
Promote Your Brand in an Eco Friendly Manner. By reducing the need for single-use bags and using eco materials, reusable bags give you the power to market your brand in an environmentally conscious way, so you can, in a sense, have your cake and eat it, too. You can establish or build upon your brand awareness and recognition and do right by the planet.
Custom Reusable Bags are Completely Unique and Showcase your Brand in a Durable and Cost-Effective Way. We have a stock selection of reusable bags to choose from, but if you want to adjust an existing design or maybe completely start from scratch we can help you out every step of the way. By creating your very own reusable bag the end result will be something that is functional. The more functional or useful a reusable bag is, the more likely your customers are to reach for it when they're on the go, and ultimately the more exposure your brand will receive.
So those are just five of the reasons we're thankful for reusable bags – really, we could go on all day on this topic. What do you think of our list? Is there something you love about reusable bags that didn't make our list? Let us know in the comments!
Tagged