Can Your Business Decrease The Cost of Litter?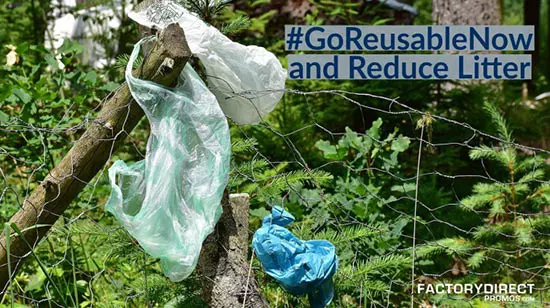 #GoReusableNow and Make a Difference
Litter is a real problem and sadly it has been for a long time. While a recent study shows that overall roadside litter is down (more on that study in a moment), the findings are not as promising as this initially sounds.
There are a lot of negative impacts of litter and it is expensive, but your business can make a difference.
Your business can swap out disposable items, like single-use bags for retail or marketing with reusable alternatives like reusable bags. Learn more about the litter problem in the U.S. and find out exactly how your business can help.
Quantifying Litter
Keep America Beautiful is an organization with a long history of helping and inspiring individuals to take action to support their communities. For many decades, Keep America Beautiful has conducted litter surveys in the U.S.
The most recent findings show that litter found along roadways is down 54% over the last decade. This is great news and shows that the hard work put in is paying off.
However, the survey also found that there are still 50 billion pieces of litter in the U.S.
Litter Problems
There are a lot of problems with litter.
Litter is ugly to look at and it ruins the appearance of homes, businesses, communities, and nature.
Litter is a threat to animals and ecosystems. Animals that ingest or become ensnared in litter may be unable to care for themselves or their young. This can have large ramifications on food chains and entire habitats.
Litter can also be damaging and carry a big expense. Cleaning up litter comes with a cost to taxpayers and municipalities. It takes time and money to round up, sort, and properly dispose of discarded items.
Failure to clean up litter can result in even more expensive cleanups.
If discarded litter collects in drainage systems, these systems may fail in the event of a flood or severe storm. The resulting damage can be devastating to communities and come with a hefty cleanup cost.
Easy Solution
Cleaning up litter is one solution to the litter problem.
Keep America Beautiful estimates that if everyone in the U.S. picked up 152 pieces of litter the problem would be solved. That's one way you can help, but another way is to stop the problem from developing.
Preventing litter is a necessary step.
Reusable bags are a great way to reduce litter. Disposable plastic bags are a common component of litter, so eliminating single-use bags, in turn, eliminates a lot of litter.
In California, when businesses helped people make the switch to reusable shopping bags in response to a disposable plastic bag ban, litter decreased.
The durable construction of reusable bags enables these bags to be used for several years under regular use.
One reusable bag can often do the work of thousands of single-use bags, which works out to a whole lot of litter that will just never happen.
Reusable bags are also an effective promotional product that will increase your brand's awareness while providing a great return on investment.
Create Your Custom Reusable Bag
We have been helping our customers create their very own custom reusable bags for over a decade. We are passionate about helping our customers and the planet.
Reusable products, like grocery bags, are an effective way to reduce trash and litter while also helping promote your business.
We offer two ways to order, both in-stock and custom/bulk ordering to best fit your timeline, budget, and vision. And we work directly with our factory to keep prices low and turnarounds fast.
Shop our full line of reusable bags by using the links above and let's get started creating your custom reusable bag today!
Tagged