3 Ways to Make Your Holiday Cards Stand Out from the Competition This Year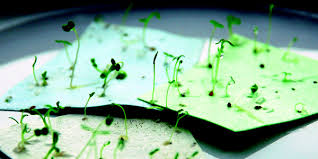 Here's How to Stand Out from The Competition This Holiday
As the holidays approach it is time to start thinking about your corporate holiday card. You want your brand to stand out from all of the other cards your clients and vendors receive and we've got three ways to do it.
Many brands are opting for an e-card, and although that may not be a mistake, there is an opportunity to take the greeting offline in a more traditional way, which current consumer research says is important to consumers. People are looking for brands that make them feel a connection to the past, a more simple time and receiving a holiday card in the mail, fits the bill.
Here are three ways to use seed paper holiday cards to spread some holiday cheer along with your brand's marketing message while also hitting a sentimental chord with your clients.
Seed cards stand out and are memorable because of their uniqueness and the way you can plant them after the holidays. The paper is embedded with seeds and when covered with a layer of soil the seeds will germinate, the paper will break down mulching the seeds and when the seeds sprout your clients will have beautiful flowers or a useful vegetable or herb plant that will also remind them about your brand long after the holidays are gone. Planting the seed paper is also an activity that can be done with the family, which will further endear your brand with your customers.
Add a barcode to the back of the seed paper card for people to scan. This barcode can send your customers to a page to sign up for a free gift, consult or whatever conversion you are looking for. The barcode gives your card an interactive and cutting edge element, it allows you to provide additional information about your brand and the products or services your company provides all while still giving your customer the tradition of a paper card.
Think about what colors you will use and branch out from the reds and greens. Think about bolder colors like blue and even black mixed with metallic gold, silver and bronze. Breaking apart from traditional holiday color schemes will help your card stand out from the pack. Metallics are trendy and festive and give your card a modern look and really pop when paired with black. You can also consider using colors that are part of your corporate identify to tie in with your branding.
You Ready to Stand Out from Your Competition?
Sending a paper corporate holiday card will create an emotional response with your customers and resonate. Utilizing seed paper is a great way to up the eco factor and create a memorable piece that will not just spread festive cheer, but will also reinforce your branding statement. By adding a barcode and selecting on trend colors you can really create a notable card that will forge a connection with your customers.
Contact us today HERE to get started creating your holiday card and stand out from the competition.
Tagged