Eco Drinkware Puts Your Branding Message in Your Customer's Hands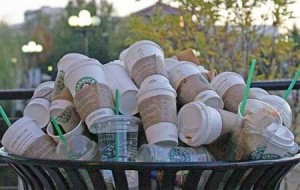 Popularity of Reusable Drinkware on the Rise
Everywhere you look people are toting their morning coffee or tea in eco friendly mugs or carrying reusable water bottles. You can hardly go anyplace without seeing reusable drinkware – at the office and the gym and just about everyplace in between. Any type of reusable cup or mug is a prime opportunity to market your brand in a highly visible manner.
The Problem with Disposable Drinkware
Disposable water bottles are all around you. It is certainly handy to have a single-use bottle with a cap to take water to go, but when you factor in the low percentage of bottles recycled, these plastic containers lose their appeal. When disposable water bottles are not recycled they end up in landfills or as litter – neither of which are acceptable outcomes.
Disposable coffee cups may actually be worse since they are less likely to be recycled. The coating used to make paper cups waterproof prevents them from being recyclable and biodegradable and Styrofoam does not safely breakdown. The harm these products wreck on the environment outweighs the convenience.
Market Your Brand to Your Prospects and Customers with an Eye on Health and a Healthy Environment
Imprinting your logo or a corporate branding message on a reusable water bottle or cup allows your customers to bring their favorite beverage on the go without burying the planet in plastic. Every time you and your clients use an eco mug or water bottle, that means less waste in the form of plastic water bottles or Styrofoam coffee cups and plastic lids that end up in landfills.
Check out our selection of customizable aluminum water bottles or stainless-steel water bottles that feature loop caps and carabineer clips. This stylish and popular design will turn heads and have people asking your customers where they got their water bottle. The handy clip easily attaches to a backpack or messenger bag so your logo can be put on display even if the water bottle isn't being used. An advantage of going with a metal vessel is that you know it is BPA free.
BPA (short for bisphenol-A) is a chemical used to create certain types of plastics. Hundreds of peer–reviewed scientific articles show that BPA, at very low doses, causes harmful health effects such as breast/prostate cancer, hormone disruption and insulin resistance. Some in the chemical industry, namely their trade association, say that BPA does not pose any health risks. Most consumers and public health leaders have erred on the side of the scientific studies and are moving the market away from this type of plastic.
Deputy Director of Safer Chemicals, Healthy Families (link to http://www.saferchemicals.org/ ) Lindsay Dahl, directed policy and media strategy for the Healthy Legacy Coalition of Minnesota before joining Safer Chemicals. In that capacity she led the campaign for Minnesota to become the first state to ban BPA.
Ms. Dahl shared with us that, "If there's one thing I've learned in the last few years it's you don't want to mess with mothers. They are tired of being exposed to toxic chemicals – and while asking Congress for stronger federal laws – they are also choosing safer products, free of BPA."
We here at FDP have heard the call of consumers and public health leaders.  Our drinkware is BPA free and our stainless-steel and aluminum choices are safe materials for drinking. They are also easy to clean and durable enough for daily use.
Help the Planet, Consumers and your Brand
When you order in bulk, you can easily customize any of our reusable eco drinkware with something completely custom and unique. When you choose to market your brand with eco drinkware you are putting your branding info on some prime, highly visible real estate, but you are also helping consumers keep an eye on their health, minimizing the amount of trash destined for landfills and decreasing the amount of litter that plagues the planet. Use your brand to help the environment and showcase your green message to your customers in the process.
Tagged