4 Reasons Why Reusable Water Bottles Are a Wise Marketing Investment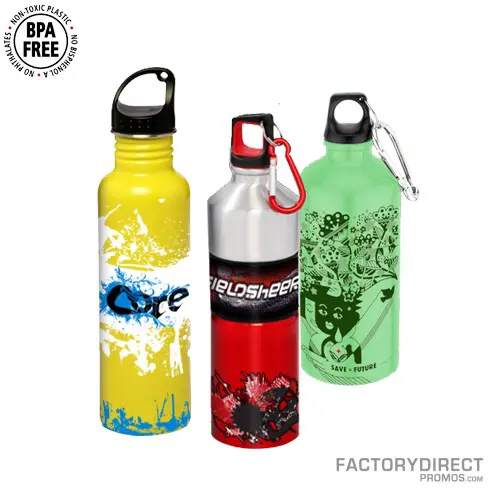 Learn Why You Should Consider Reusable Water Bottles as Promotional Items!
The birth of the single-use plastic bottle took place in 1973. According to Kitchn's A History of Bottled Water, that's when polyethylene terephthalate (PET) was patented. It provided a cheaper alternative to glass and quickly became the go-to material for bottling beverages for that very reason. Bottled water has been the preferred method of water consumption for decades, but reusable water bottles have staked their claim. As they become more prominent, brands should take notice.
There are various promotional products that can carry your brand's message. Finding one as fruitful as reusable water bottles isn't easy. Marketing can benefit brands that hope to build up their green marketing initiatives. Beyond the eco-friendly benefits, reusable bottles are gaining market share.
Below, we explore four reasons reusable water bottles are a wise investment for your brand.
Reusable Water Bottles Are Becoming More Prominent

The demand for convenient and eco-friendly products has boosted the value of reusable water bottles. The increased focus on convenience affects brands and consumers as they seek new ways to spread their messaging and reach new customers.

According to a recent Transparency Market Research report, the reusable drinkware market is exploding and will continue to do so. One source mentioned in the report expects the demand to rise to more than $10 billion by 2024. They forecast a compounded average growth rate of 4.2 percent from 2016 to 2024.

Eco-Friendly Materials Boost Their Value

There are various materials available to use when constructing your reusable bottle. Whether you go with bulk aluminum water bottles, stainless steel, or recycled BPA-free plastic, the real value of these reusable bottles is the number of single-use bottles that won't be in circulation.

Going green is an easy platform to get behind because of the shared benefits brands and consumers enjoy. Reusable water bottles employ eco-friendly materials and are washable and reusable. They provide a unique branding opportunity because reusable drinkware can be a lifetime product if treated with care, and your brand messaging will continue to circulate at an affordable price.

Reusable Water Bottles are a Cost-Effective Option

Promotional products come and go, especially smaller items like pens and lanyards. Those products are limited because they aren't particularly convenient when applied to other uses. Using promotional products to spread your message has known benefits, and we can enjoy them at an affordable price.

Considering the forecasted rise of reusable water bottles, it's easy to see why they would be a wise investment. Single-use plastic bags have been under the microscope for some time now, and single-use plastic bottles aren't far behind. Not only are reusable water bottles in bulk cost-effective as promotional products from a marketing perspective, but they will save customers money, a result of not needing to rely on purchasing bottled water for as long as their reusable bottle lasts.

Durability is a Main Component

Repeated use equals repeated impressions, which can be a fountain of youth for any brand. These reusable water bottles use materials that are built to last. Durability is where the value is, and your consumers will appreciate it.
Whatever your message is, your brand will benefit from continued use and an investment in reusable drinkware has legs; it won't end its journey after a few uses because of the value it brings and the single-use products it replaces.
Final Thoughts
Investing in reusable water bottles as promotional products can provide customers with reliable and durable options. They will limit the need for single-use plastic bottles while promoting your brand and messaging. Reusable bottles are a reliable to create impressions each time a customer uses them and in turn, potential new customers are reached.
Contact us today to learn about the variety of reusable water bottles options we offer.
Tagged