Latest News on Plastic Bag Bans in the United States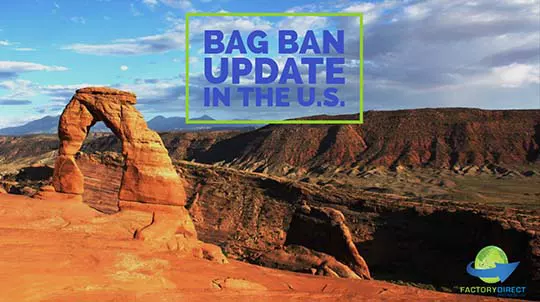 Tracking Plastic Bag Bans Across The Country
Plastic bag bans are continuing to go strong in the United States. There are still setbacks, but the movement is resilient and supporters continue to find creative solutions when necessary. Let's learn more about efforts to ban single-use plastic bags across the country.
Moab Bans Bags
Officials in Moab, in Southeastern Utah, unanimously voted to ban single-use plastic bags. Moab's proximity to Arches National Park, Canyonlands National Park and many other sites make it a tourist destination. A desire to reduce litter, which mars the natural beauty of the area, was a contributing factor behind the ban. The plastic bag ban in Moab will go into action on January 1, 2019.
Increased Interest in Beaver State
Oregon has long been a hotbed for plastic bag bans. While there are a number of bans already in place in Oregon, there just hasn't been the flurry of bans found in states like California and Massachusetts. It looks like this may be about to change. Lake Oswego is considering a ban while Hood River, Forest Grove and McMinnville have all passed and implemented single-use plastic bag bans.
Plastic Bag Bans in Empire State
A single-use plastic bag ban recently went into action in Patchogue, New York. Trustee Joe Keyes is hoping Patchogue serves as an inspiration to nearby towns and counties, and that others will follow their lead. Piermont, New York recently approved a measure to ban single-use plastic bags and Styrofoam, which will become effective on January 1, 2019.
Ulster County, New York is inching closer to passing a ban on disposable plastic bags. The Ulster County Legislature voted in favor of a bag ban. This measure would also impose a 5-cent fee on paper bags. Next up, the proposal will now go before the county executive. If approved, the ban will become effective on July 15, 2019. Rensselaer County narrowly missed out on passing a plastic bag ban in a 3-2 vote.
Movement Growing in Garden State
The plastic bag ban movement is really gaining momentum along the Jersey shore. Bradley Beach delayed the start of their plastic bag ban until January 1, 2019. The measure was initially supposed to become effective on October 1, 2018; however, the start date was pushed back to allow the borough and local businesses more time to look into reusable alternatives.
Belmar plans to go plastic bag-free on May 1, 2019. The ban was passed in May of this year. As a shore community, Belmar residents understand the problem of plastic litter firsthand. It is hoped that the ban will reduce plastic bag trash and help improve the quality of the coastal areas.
Both Jersey City and Hoboken will soon have plastic bag bans in place. Hoboken's law prohibits single-use plastic bags and imposes a 25-cent fee on paper bags. The bag ban will become official in Hoboken in December of this year, while Jersey City's ban goes into action in June 2019.
Stay Connected
We track the bag ban movement on our map. This is a useful tool to get a big picture of the movement, while also enabling access to more info if you want to learn the details. We track the successes and misses to help create an inclusive take of the movement. Do you know of locations missing from our map? Or do you want to learn more about any of our products? Whatever you need, reach out and we'll help you market greener!
Tagged