Assessing Custom Business Bags as Promotional Products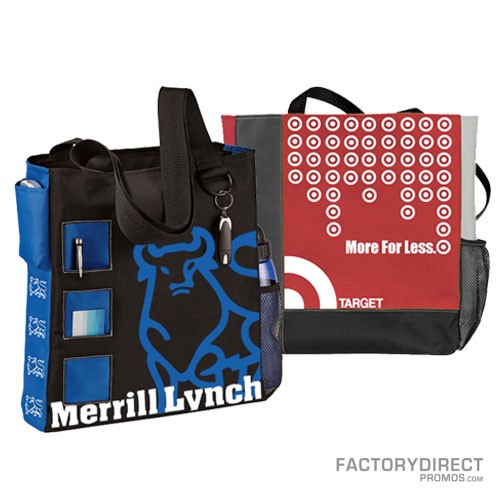 Learn How Custom Business Bags Can Be a Difference Maker for Your Brand!
Using promotional products to deliver your message is a crucial aspect of any marketing strategy because it can result in an easy win. Take custom business bags for example. The customization aspect makes them an intriguing option for any brand, and using eco-friendly material creates a positive outlook right from the get-go.
Each day your company makes decisions that help with answering one simple question, a question that defines every brand's decision-making process: "What is the message we want to deliver?" This question is particularly prevalent for marketers. Successfully delivering your brands messaging can be difficult, considering that the intention of your decisions can get lost in translation.
A marketing strategy is layered. Some decisions are more difficult and lend themselves to more risk than others. However, the decision to use promotional products like custom business bags isn't one of them. Below, we will explore why custom business bags could be valuable for your company.
Customization is Key
Having promotional products on hand at all times is a no-brainer for your brand. They are an effective way to take advantage of any opportunity to spread the brand's message and purpose. Consider the audiences you hope to be reaching on a daily basis. That extended audience is within reach thanks to custom business bags.
Customizable properties of reusable bags include materials, colors, and logos. Your brand won't be limited by the selection, considering it's quite extensive, and you control what the bags say about your brand. Lucky for you, the decision to go with an eco-friendly option already says a lot.
Eco-Friendly Materials Become Part of Your Message
Painting a public picture of your brand is the goal of promotion. Fighting plastic pollution is a battle that is gaining steam, and if done on a large scale it will have a lasting effect. Your brand can help lead that charge. Consider that by 2050, the plastic floating in the ocean is on pace to outweigh the fish that inhabit it. Promoting a green marketing initiative is intriguing and endearing to customers. This alone can get them interested and the reusable bag that sports your brand's message will take it from there.
Take a trade show for example. Your company has its booth set up and the doors open, and you need to decide what you will lead with. Reusable bags are a good place to start. Profess to anybody who will listen that in the long run, your branded business bags will make a real difference. If not just in their individual lives, but on the planet as a whole. Unlike smaller, less significant promotional products, custom bags are built to last.
Promoting With Useful Products Is a Strategy of Its Own
The main benefit that comes from custom business bags, and the value that they can add to your brand, comes from the push towards plastic bag bans all around the world. Quite frankly, consumers are in need of an alternative to single-use plastic bags, and they will find a use for them.
Our reusable bags have been tested and certified. Each use will be a reminder of your brand's dedication to quality, reinforcing your marketing message. If the bag lasts, friends, family, coworkers, and even other shoppers will be exposed to your branding message each time they are used.
The Bottom Line
Making custom business bags your choice is valuable to your brand in more ways than one. Reducing your environmental impact and spreading that message to customers will stick with them.
Contact us today to learn about the variety of reusable shopping bags we offer that can be used to simplify life on the go.
Tagged