4 Ways Reusable Recycling Bags Solve The Apartment Recycling Dilemma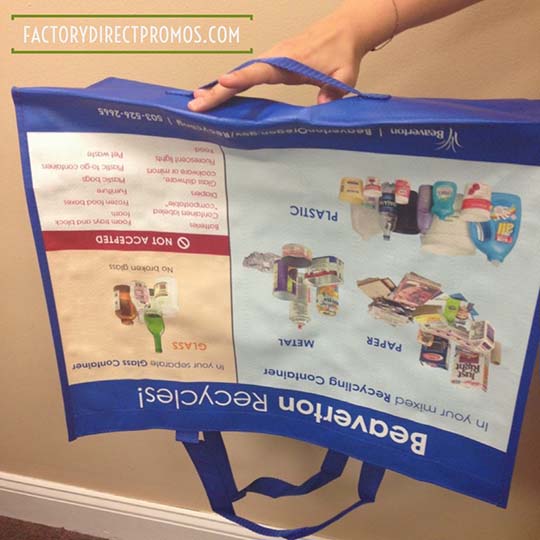 How to Easily Create A Multifamily Recycling Program
Recycling makes sense. Repurposing items saves manufacturers from using virgin materials, and it often requires less energy to recycle than to create something from scratch. Despite the benefits of recycling, it is still challenging for some people to recycle – namely, people who live in multi-family homes or apartment buildings. That's about to change thanks to reusable recycling bags.
Difficulty Recycling in Multi Family Dwellings
Curbside recycling programs available to single family homes and even duplex homes are simple. The resident simply collects their recyclables, tosses them in a bin and once a week places the bin on the curb. This system does not translate well to apartments or multi family homes. The layout of the buildings makes it a challenge to implement a system that is easy for residents and effective for sanitation workers.
How Apartment Managers and Owners Are Solving the Multi-Family Recycling Problem
Reusable recycling bags are a game changer and make it easy for apartment managers and tenants. Here is how reusable recycling bags solve the apartment recycling dilemma.
Reusable Recycling Bags are Convenient

When recycling is convenient, tenants are more likely to participate. Instead of a bulky bin tenants use a space-saving, reusable bag. The bag is constructed from recycled materials, making it eco-friendly. A recycling bag has handles, so it can easily be hung on a hook in a closet or even on a coat rack. The handle on the bottom of the bag makes it easy to dump the contents in a receptacle or dumpster intended for recyclables.

Durable Construction

Further, the material is durable and water-resistant, which will really come in handy if a can or bottle with residue of whatever was in it leaks out. Messes are contained in the bag. Reusable recycling bags are built to last and one bag can deliver years of dependable use.

Cost Effective Recycling Solution

Reusable recycling bags are inexpensive, especially when ordering large quantities. The higher the quantity ordered the lower the price per bag. When ordering enough for an entire apartment complex, or if a municipality orders bags, it is very easy to hit high quantities and secure a low price per bag.

Customizable Design

Customize the design and add printing to create a unique and effective bag. Have contact info for the apartment manager or recycling facilities printed on the bag, along with the items that are accepted locally for recycling. Including this information will make it easy for tenants to know what items can be recycled and should be thrown in the bag.
Why Municipalities are Turning to Reusable Recycling Bags for Multi-Family Recycling
Reusable recycling bags allow municipalities to collect more recyclables and streamline waste collection. When recycling is a challenge, recyclables are likely to end up in the trash and eventually in a landfill. Glass, metal and plastic does not safely break down and when they end up in a landfill they just take up space. As landfills reach capacity municipalities need to find alternate solutions. Increased and effective recycling efforts help to ensure items that can be recycled are kept out of landfills.
Create Custom Reusable Recycling Bags
Find out how to put reusable recycling bags to work for your apartment complex or residents and create your own bags today! We have been creating custom reusable bags for over 20 years, so we have streamlined the process to make it as easy and cost-effective as possible. We pass along our cost savings to our customers, so you get the most for your budget.
Our direct relationship with our factory means we can offer a very high level of customization, so you can create unique reusable recycling bags that make it easy for tenants to recycle. Contact us today to learn more!
Tagged