5 Ways Reusable Recycling Bags Make Dorm Recycling Easy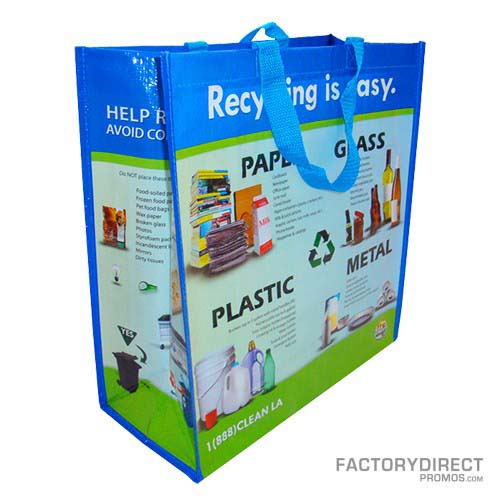 How to Simplify the Student Housing Recycling Dilemma
Recycling and student housing are two things that typically do not go together. Establishing a recycling program that is easy for students, building maintenance and the local waste management organization can be challenging at best. That is all about to change thanks to our reusable recycling bags. Find out the five ways reusable recycling bags make dorm recycling easy.
1. Simple Process
Reusable recycling bags make it easy to collect bottles, cans and more. When full, a student can empty the reusable recycling bag into a larger collection receptacle. The process is simple and easy, and when recycling for dorms is easy, students are more likely to participate.
2. Better Use of Space
Reusable recycling bags work in the same way as recycling bins, but better. The problem with recycling bins is that they are large and bulky. Dorms are typically tight quarters, and finding space for a large bin can be a challenge. Reusable recycling bags can be hung by the handles on a wall or the back of a door. This keeps the bags close by for convenience and accessibility, but not taking up the already limited floor space.
Recycling bins are large and this big capacity is better suited for a family. One or two students in a dorm without a full kitchen do not need a large bin. Reusable recycling bags, however, are available in whatever size you need (learn more about this in #5). The often smaller capacity provides enough space to hold the recyclables generated by just a couple students over the course of a week or a few days.
3. Durable Construction
Our recycling bags are built to hang in there and get through several years of use. The material, which is made from recycled content, is water-resistant. If a wet item, or a food container with remnants of whatever it held, is placed in the bag, the bag will not leak. The bag can also be rinsed off, wiped down or hand-washed if anything spills in the bag.
4. Cost Effective Solution
When compared to traditional recycling bins, reusable recycling bags are significantly less expensive. All of our products are available at low wholesale pricing. The higher the quantity of the order, the lower the price per bag, allowing you to secure an even better price.
5. Customizable Design
The standard design of our reusable recycling bags consists of dual handles that are long enough to be worn over the shoulder. Carrying the bag on a shoulder frees a student's hands to also carry a bag of garbage, so they can get rid of everything at once. A convenient handle on the bottom of the bag makes it easy to dump the contents into a collection bin. Any of these features can be altered to improve the design and enable these recycling bags to best serve the residents.
In addition to changing the construction and design of the bag, you can also customize the printing. All surfaces of the bag can be printed with your custom artwork. From logos and mascots to lists of items that are recyclable, along with important phone numbers and contact information, there is plenty of space to get your message out there.
Make Recycling Easy
There is still time to get your order in before the start of the fall semester and simplify your student housing recycling program. We are here to help you in any way that we can to get your dorm recycling program up and running. If you would like samples, please feel free to contact the Factory Direct Promos' team.
Tagged