6 Stats Marketers Need to Know About Promotional Products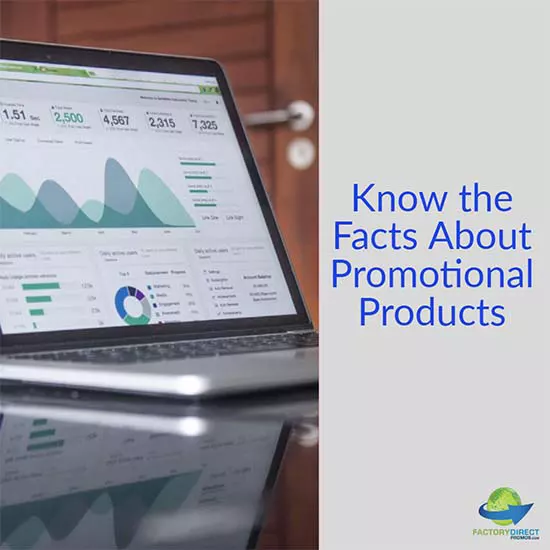 Know the Facts About Promotional Products
Promotional marketing comes in many forms, but the goal is always the same: give your customers a physical item emblazoned with your branding information that will serve as a constant reminder of your business. This Trojan horse approach to marketing is effective, but don't just take our word for it. The 2019 ASI Impressions study breaks down the effectiveness of promotional marketing. Learn more and find out six stats you need to know about promotional products.
1. Households Own an Average of 30 Promo Products
These numbers vary by demographic and region, but this obviously means that people love and use promotional products. If you can get branded gear into your customer's hands, there is a very good chance they will use it, but the news gets even better.
2. 50% of Consumers Are More Likely to Do Business With an Advertiser That Gave Them a Promotional Bag
People like getting free things, so giving away promotional products like reusable bags at a trade show or industry event immediately earns your brand some goodwill from your customers. Once your customers start using your branded gear, they will think about your business each and every time they use it. When the time comes for your customers to make a purchase, they'll think about your brand and because of your promotional item, there is a good chance those individuals will make a purchase.
3. In TOTAL, 42% Have a More Favorable Opinion of an Advertiser if the Promotional Product They Received was ENVIRONMENTALLY FRIENDLY
People care about the environment, so selecting a promotional marketing item that replaces single-use products and/or is made from recycled or sustainable content matters. Environmentally-friendly marketing products help to reduce your business' impact on the planet. Green promotional products are also consistent with any green goals or stances your business has established. Consistency matters and shows your customers you are serious and committed to the cause of going green.
4. PROMOTIONAL PRODUCTS Are the Most Highly Regarded Form of Advertising
People are constantly bombarded with advertising. This can be tiresome. Getting your message across in an effective way is hard. Promotional products cut through the noise and position your marketing information in front of your audience. When customers carry your branded gear they are endorsing your business, so not only are they putting your info out there but they are also vouching for you. This effectively promotes your brand and grows your business.
5. Consumers are Nearly 2.5 Times More Likely to Have a Positive Opinion of Promotional Products Compared to Internet Advertising
Internet advertising serves a purpose, but sometimes users can end up feeling like a statistic when they are on the receiving end of a targeted campaign. Customized promotional products serve a purpose beyond just advertising your business. Whether you hand out reusable bags, coffee mugs, pens or something else, these are all useful products your customers need or can use. Providing useful products fulfills a need and shows customers that your brand is thoughtful and aware of their needs and wants.
6. When Asked What Types of Advertising They Like Best, Consumers Under 55 Prefer PROMOTIONAL PRODUCTS
Consumers under age 55 are about to outnumber older demographics. If your audience is under 55 years of age, you may want to consider giving them what they want. You need to advertise, and if your demographic responds well to a certain type of advertising then that is where you should invest your money.
Find Your Perfect Promotional Product
We have been in business for almost three decades, so we have our processes down pat to make things easy as possible when placing your order. We even try to make things fun when working with our team. Your end result will be exactly what you want and entirely customized to your brand. Browse our site full of eco-friendly promotional items and fill out a quote request form!
Tagged