Facebook Loses Its Luster While Custom Reusable Bags Deliver ROI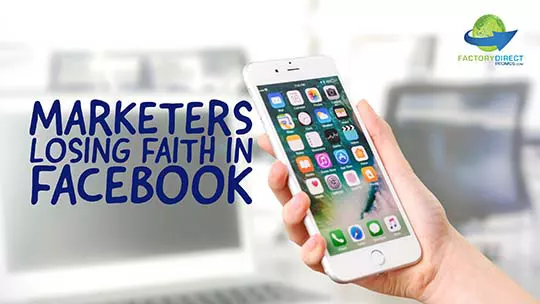 Marketers Losing Faith In Facebook
Marketers are starting to lose faith in what was once an incredible platform for advertisers and brands. Back in the good old days, you could expect to get the same amount of traffic to your website from posting content on Facebook as you could from Google. My how times have changed.
Reach is down even on sponsored posts and clicks are hard fought. People are finally waking up to the fact that Facebook shares some of their data with app developers and data firms. Elon Musk recently closed down both his SpaceX and Tesla Facebook business fan pages.
There is a huge backlash right now against Facebook and many consumers are spending less time than ever on the platform. Which is exactly what Mark Zuckerberg wants.
The Paradox of Facebook
Although Zuckerberg has a lot on his hands right now, it seems that he actually wants people to get off of Facebook and out into their communities interacting IRL (in real life): creating connections, building relationships and making positive things happen.
This provides somewhat of a dilemma for advertisers who have put all or most of their marketing dollars into Facebook. But it is an opportunity for your marketing department and your prospects to deliver on what Zuckerberg wants.
Custom Reusable Bags Work For Your Marketing and Help Consumers Go Green
Engage with your customers in a real and meaningful way with custom reusable bags. Reusable bags are a physical reminder of your brand that your customers can hold in their hands. When your customers use your branded bags they will be reminded of your brand and your products or services.
Another marketing perk of custom reusable bags is they help expand the reach of your brand in the community. As your customers carry your personalized bags they will put your marketing information on display, so their family, friends, co-workers and even complete strangers will become aware of your brand.
Whether your company has a made a commitment to go green, or if you simply want promotional items that will not cause any controversy, custom reusable bags are the solution. Reusable bags eliminate the need and use of disposable plastic bags. Unfortunately, single-use plastic bags are seldom recycled and these bags go on to cause significant environmental harm.
The problem is so severe that there is a growing movement to ban disposable plastic bags. If doing away with single-use plastic bags was not green enough, reusable bags are also made from recycled or sustainable content. Custom reusable bags are an environmentally friendly marketing tool that helps your brand while also helping the planet.
Dependable Marketing Investment
Custom reusable bags are a solid investment that will continue to promote for brand for many years to come. Under normal use, a reusable bag should last for about six years, which means one bag can deliver hundreds, possibly even thousands, of impressions. By comparison, Facebook is high risk.
Many marketers are finding it harder to reach their audience partly through changes Facebook has made, but also as a result of users leaving the platform. The future of Facebook may be uncertain, but custom reusable bags are here to stay and will promote your brand in an ethical manner no matter what.
Create Your Own Custom Reusable Bags
Social media is changing and Facebook, in particular, is not the effective platform it once was, but custom reusable bags can help you reach your customers in significant ways.
Contact us or browse our selection of custom reusable bags, make your choice and fill out a quote request today!
Tagged