Retailers Here Are 2 Ways to Promote Your Brand with Custom Recycled Bags!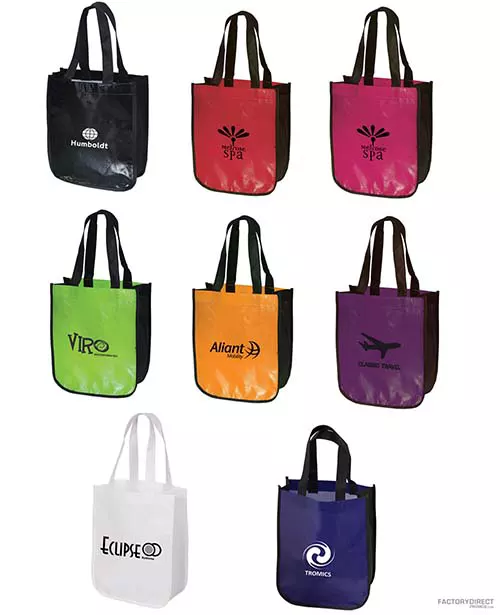 Retailers Promote Your Brand with Custom Recycled Bags!
Custom recycled bags are a great way to promote your retail brand. Their reusable design means your customers can use them again and again and they will get your brand's message out there each and every time your customer's carry them. Once your customers have your recycled custom bag they can start spreading the word about your brand, but how do you get your custom recycled bags into your customer's hands? Here are a couple ways to promote your brand with the perfect recycled custom bag.
Create a Limited Run Recycled Custom Bag
Reusable bags are really convenient whether they're used to carry groceries home from the store or as an overnight or gym bag or for just about anything. Consider creating a signature look and coming out with new designs on a regular schedule. The catch is once you run out of a design that's it.
Each design is a limited run and when you run out that's it; you move on to the next design. By creating a bag your customers love you can create a buzz and a sense of urgency for your customer's to collect your reusable bags.
You can promote a new bag design release on social media or dedicate a segment of your blog to new recycled custom bag releases. Encourage customers to get pictures of themselves carrying your custom limited release bags to post on social media with a specific hashtag.
You can even run a contest in which your customers can submit design ideas for future recycled custom bags. This level of engagement will create excitement around your reusable bags and your brand.
Gift Your Recycled Custom Bags or Support a Cause
Offer your custom recycled bag as a gift with purchase. When your customers make a purchase, give them a branded custom bag to carry their goods home. If they place an order online, throw a branded reusable bag in the box. People like getting things for free so this will leave an impression, help build your relationship and they'll be sure to use your custom branded bag.
When your customers carry your bag they'll get your marketing message seen and advertise your brand for you. If you want to add an altruistic approach to your marketing, ask your customer to donate to a chosen charity for the planet and you'll give them a reusable bag in exchange for their generosity.
This is a double payout for the planet, because you'll be supporting an environmental cause and getting your customer to use a reusable bag, eliminating the need and use for single-use plastic bags. If you opt to go with the charity approach make sure to give status updates on your blog or on social media, so your followers know what you're doing and can track your progress.
Custom Recycled Bags Get Your Message Seen
In order for custom recycled bags to be effective, you need to get them out into the world, so your customers can use them. Creating interest with limited run bags, giving your bags away as gifts or using them to support a cause are all great ways to get your customers using your branded reusable bags.
Start creating your custom recycled bag HERE or call us at 866.222.0949.
Tagged