Custom Recycled Bags Make a Difference to Your Marketing and the Planet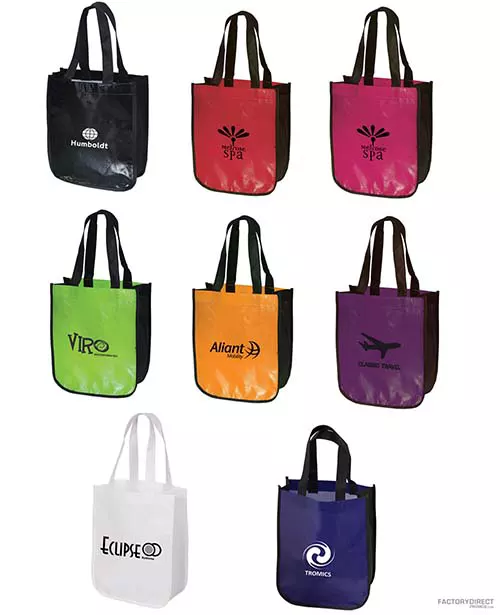 Close The Loop with Your Marketing
When you can close the loop by finding a new use for an existing material, that is certainly a win. When you can promote your brand in an environmentally friendly manner, that also delivers an amazing ROI, that is definitely a win. When you can do all of these things it sounds like you are marketing your brand with custom recycled bags.
Environmental Merits of Recycled Bags
Our custom bags are constructed from recycled plastic, which gives a new purpose to a material that all too often ends up in landfills or as litter. Reusable bags also eliminate the need for single-use plastic bags, making them even more eco-friendly.
Disposable plastic bags are difficult to recycle as not all recycling facilities accept thin film plastic bags, so unfortunately they typically are thrown in the trash after one use and are not the best choice for your marketing dollar. Plus, when in a landfill, disposable plastic bags simply take up space – they do not safely breakdown. Over time the plastic will break apart into smaller and even smaller pieces of plastic that will leach into the ground. Single-use plastic bags are also a major risk to animals and their habitats. Reusable recycled bags are a great option for your marketing as they put an end to this harm by eliminating the need for single-use bags and did I mention they give you great ROI on your marketing dollar?
Put Custom Recycled Bags to Work for Your Brand
Reusable bags are becoming increasingly popular with the prevalence of legislation banning or implementing fees on disposable plastic bags and many people simply opting to use reusable bags due to the convenience and eco friendliness of them. Customizing a recycled bag allows it to represent your brand for years in an eco-friendly manner.
You can select the color of the bag and have your branding message, logo, slogan or other info printed directly on the bag. When your customers carry your custom branded reusable bag they will display your branding information and help spread the word about your company and the products or services you provide. Reusable bags typically last for several years of regular use, so that means your bags will be out there spreading your branding message years after you've handed them out, delivering a pretty impressive return on your investment.
Make an Eco-Friendly Statement with Your Marketing Today
When you customize a recycled bag with your branding information you will clearly relay that information right? But recycled bags also send a message about your company's stance on eco issues. Marketing items are a necessity, and it is really easy to just pick something out and give it to your customers. Yet taking the time to select a product that has a positive impact on the planet, such as something made from recycled materials, makes it clear that your brand is serious about your environment goals and the effect your brand has on the planet both today and going forward. Fill out a quote request located on all of our pages of our site or contact us today HERE and our team will get started creating your custom recycled bags.
Tagged