Why Reusable Wine Totes are Great for More Than Just Wine!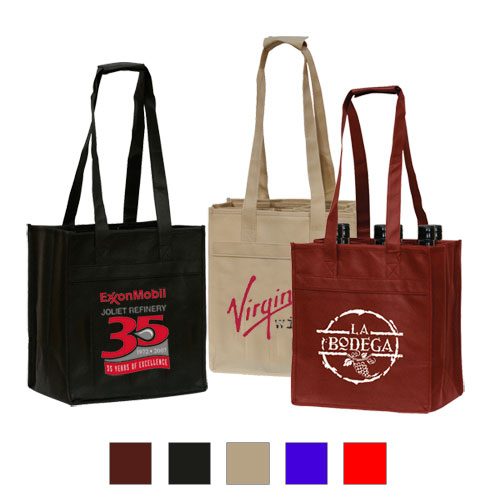 When most people hear the term reusable bags they usually don't think of wine tote bags first, which is fine and makes sense how popular reusable shopping bags have become as of late, but there are so many different styles of reusable bags to choose from.
While a specialized bag has an intended purpose – there is no reason such a bag can't be used for so many other things. We'd like to shine a light on our reusable wine totes to help illustrate that while these bags are great for wine bottles they are capable of so much more.
The Durable Design of Reusable Wine Totes Ensures an Amazing ROI
For us it is truly important to insure a quality reusable wine tote to help market your business and so we start with a 90g non-woven polypropylene material for our reusable wine totes. This fabric is a great option because it's lightweight and strong, so your customers can fill and carry this bag for years to come. Polypropylene has a smooth finish that wipes clean with a damp cloth, but can also take a spin in a washing machine for more thorough cleaning.
Our custom reusable wine totes all feature a bottom board and internal dividers, so bottles will be supported and protected for peace of mind. The quality construction of our custom wine totes ensures they will last, so each and every time your customers carry your branded bag your marketing message will be on display. This increased visibility will improve your brand awareness and recognition while also giving you a great bang for your marketing buck.
Think Outside of the Box, or Rather the Reusable Wine Tote Bag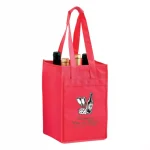 Reusable wine tote bags are a good fit for wineries and distilleries, liquor stores, distributors and manufacturers, but there's no reason why you should not consider this style of bag if your company does not fall into one of those categories. Our wine totes are designed to accommodate wine and liquor bottles, but so many other items fit.
These totes make an easy addition to your customer's reusable grocery bag lineup and are great to carry everything from soda bottles to jars of tomato sauce to cut flowers, and the separate compartments make this bag handy to keep organized at a farmer's market or to carry glassware. Opting to market your brand with customized reusable wine totes will help delineate your brand from others and make your bag standout.
Make the Reusable Wine Totes Your Own
As with all of our reusable bags you can select the style (when it comes to our wine totes you can choose from 2-, 4- or 6-bottle reusable tote bags), the color of the tote, and the ink and print of your logo or branding statement on your reusable wine totes or…you can seriously up the ante and customize your reusable wine tote to your exact specifications.
Use an alternate color for the gusset or the handles, change the length of the handles, add pockets or whatever you can dream up to make the bag look and function the way you want. By customizing the design of your reusable wine tote you can make it cohesive with the rest of your marketing campaign and this will give your brand a polished and professional look.
It's Time to Design Your Reusable Wine Totes for Your Business
Check out our selection of reusable wine totes and get your quote. You can get your quote or ask us questions on our reusable wine totes by  contacting us here. Also remember to stock up because the higher the quantity of bags you order the lower the price per bag.
Oh and by the way, do you have more suggestions for alternate uses for our reusable wine totes? Let us know in the comments!
Tagged