Virginia to Phase Out Single-Use Plastic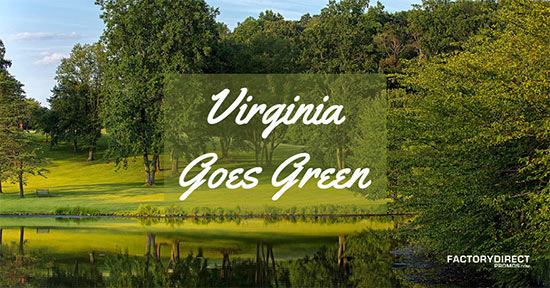 Virginia's Long-Term Plan to Eliminate Unnecessary Plastic with Executive Order 77
Virginia is taking a big step to phase out single-use plastic bags and other disposable items.
An executive order recently signed by the Governor lays out a tiered plan that will reduce a lot of unnecessary disposable plastic items by 2025.
Details of the Order
Executive order 77 will prevent executive branch agencies, like state agencies, colleges, and universities from purchasing, selling, and distributing specific disposable items by this summer.
The measure includes single-use plastic bags and water bottles, as well as plastic and polystyrene food service containers, straws, and cutlery.
The order calls to completely eliminate all non-medical single-use plastic and Styrofoam items by 2025.
Plastic is Bad for the Planet
Virginia's executive order is intended to help reduce waste and eliminate the trash headed to landfills.
Plastic does not biodegrade, so when it ends up in a landfill, it is there to stay. As more and more plastic piles up, the landfill will grow and the plastic may even slow down the process of biodegradable items from breaking down.
Essentially, disposable plastic in landfills causes the landfill to fill up more quickly and prevents items that can break down from doing so in a quick and effective way.
Landfills reaching capacity is a big problem and through responsible management, it is possible to extend the life of existing landfills. This measure will eliminate items that would more than likely end up in a landfill.
Single-use plastic bag bans are a proven method to reduce trash and we have been following the bag ban movement for many years now. You can learn more by checking out our bag ban map.
Time to Go Reusable
Making the switch to more durable, reusable items eliminates the daily buildup of trash while providing useful alternatives that still allow people to carry items, take food to go, or do any of the things they would normally do.
Factory Direct Promos' eco-friendly custom reusable shopping bags are designed to be used again and again and one bag can do the job of thousands of disposable bags. This means those thousands of disposable bags will not be used and have to be dealt with.
Custom reusable shopping bags are also a great way to promote your business or organization.
The bags can be customized with your branding info and will work like signs your customers carry to help spread your message.
Secure Your Own Eco-Friendly Promotional Items
We are happy to help your business create something totally unique to your brand that will help promote your organization for many years to come.
We hold ISO certification and work directly with our factory which keeps costs down, so you can secure quality custom bags for a great price and enjoy an excellent ROI.
We are passionate about helping the planet and our customers and we're excited to help you. Contact us to learn more and get started!
Tagged