Memorial Day Sale on Custom Reusable Bags Means Marketing ROI for Your Brand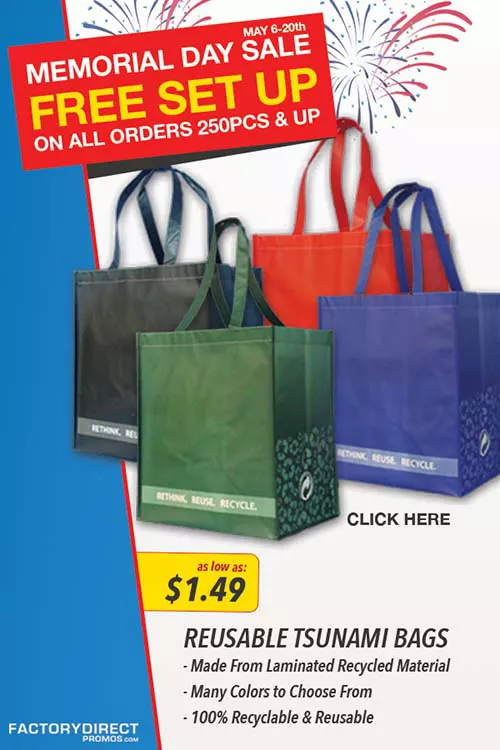 Want Some Great ROI for Your Marketing Budget?
What better way to ring in the holiday than with some amazing marketing ROI for your brand? Okay, so there are plenty of ways to ring in the holiday that may sound more exciting but hey, this is also a great time to pump up your marketing with a great deal. We know our customers want quality but we also know budgets are not something to waste. This month's eco-special on our reusable tsunami bag will offer you great ROI on your marketing dollar.
Now through May 20, 2015 we are offering a Memorial Day sale and that means you will receive free set up on all orders 250 pieces and up of our very popular reusable tsunami bags.
The Basics of Our Reusable Tsunami Bags
There is a good reason why our reusable hurricane shopping bags are so popular and one of my favorite bags for marketing. They tic a lot of boxes when it comes to what people want in a reusable bag and they are super durable. They are a convenient size and comfortable to carry, making them really handy for your customers and prospects.
Although, they can be used for just about any purpose and will be, our reusable tsunami bags measure 13" x 15" x 10" so the bag is an ideal size to function as a reusable grocery bag. The laminated recycled material is durable enough to carry even the heaviest loads, and it features a smooth finish that gives the bag a sleek look while also containing any accidental spills and allowing for easy cleanup. It is certainly one of my favorite reusable bags because of its versatility, looks and great ROI.
The material is 100 percent recyclable and reusable, so these bags are sure to meet your eco goals partly be reducing the need and use of single-use plastic bags, but also as it is made from recycled materials and giving new purpose to existing resources. You can choose the color of your bags and the color of the imprint so the finished bag will blend in with the rest of your marketing items and fit the look of your brand.
Longevity Equals a Great Return on Your Investment
On average, a reusable bag lasts for about 6 years. How often the bag is used and how it is cared for determines its lifespan, but you can expect your customers and prospects to get many years of use out of a custom branded reusable tsunami bag.
And think about it for a second, when your customers and prospects carry your branded reusable bag, they reinforce your branding message internally but they also display your marketing info to everyone they encounter. This serves as a silent endorsement, a waling billboard and increases the reach of your marketing message. It also means your brand will get exposure from your reusable tsunami bags for years to come, making for an amazing return on your marketing investment.
Details of the Sale
These tsunami bags are already a deal starting as low as $1.49 per bag, and when you order by May 20th,  you can enjoy free set up on all orders of at least 250 bags. This savings means you'll get the bags for an even better rate than you normally would, so your investment will stretch even further right?
You'll be cashing in on this marketing expense for many years, making it a smart use of your budget. As always, if you have questions about the sale, the design process, how to place your order or even our reusable tsunami bags get in touch and we'll help you out.
Are you ready to get started? Head here to request a quote! Remember to get your order in by May 20, 2015.
Tagged