Higher Education Goes Green with Plastic Bag Bans!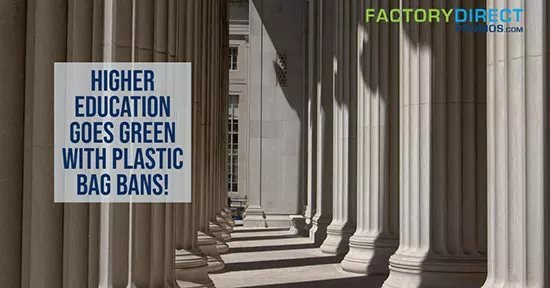 Schools Add Going Green to Curriculum
There is a new trend in the effort to ban plastic bags. We have long tracked the movement to ban single-use plastic bags, as is evident from our plastic bag ban map. The vast majority of these efforts have been enacted at a city, county, or state level.
Occasionally, a retail business may pass a bag ban within their facility, but bag bans are largely undertaken on a legal level.
That is rapidly changing as many colleges and universities are going green and banning single-use plastic bags and other items from campus! This exciting trend makes it easy for schools to use less disposable plastic.
Golden State Taking the Lead
It should come as no surprise that one of the first organizations to really take on the issue of single-use plastic in the realm of higher education began in California. A plan in place will ban single-use plastic bags throughout the University of California system by 2030.
George Washington University Banning Plastic Bags
George Washington University has been working to reduce the facility's environmental footprint for many years. So it made sense when officials recently announced plans to phase out single-use plastic bags, as well as other disposable items like water bottles and cutlery.
Banning single-use plastic bags will reduce litter, while simultaneously eliminating the recurring expense of purchasing disposable items and lowering recycling and garbage disposal fees.
The University is still working out the details and plans to implement the ban by the fall.
Georgetown University Promoting a Plastic-Free Campus
A grassroots movement is getting underway at Georgetown University.
Students are pushing to ban single-use plastic items in order to create a more sustainable campus.
A Break Free From Plastic Campus Pledge is circulating and helping to raise awareness.
Griz Student Association Initiates Plastic Bag Ban
A resolution recently passed at the University of Montana could ban disposable plastic bags throughout the Missoula campus.
The proposal started with the Associated Students of the University of Montana. Support was gained from the Campus Dining facilities which will begin phasing out single-use plastic bags in the dining facilities next fall.
State Laws Impacting Schools and Universities
It's exciting to see students or school officials taking up the case and promoting change, but there are other ways plastic bag bans can come to be at different universities.
A law in Virginia will effectively ban most single-use plastics at state colleges and universities.
Depending on the specifics of the law, some plastic bag bans may impact college bookstores, which is the case in Boston. The campus bookstore at Boston University and other schools located in Beantown are impacted by the city's plastic bag ban.
Commitment to the Environment
We are passionate about helping the planet and eliminating single-use plastic as a way to reduce trash and litter while conserving resources. Custom reusable bags make it easy to use less plastic while also promoting a school, club, or business. We have even helped educators like Harvard to spread the message to go reusable.
For over a decade we have been helping our customers go green through the use of custom reusable bags. We can do the same for your school or student group.
We have our own factory, which not only saves time and money but also offers a greater level of customization. We also offer two ways to order so you can choose which option best fits your timeline and budget.
Is your school going green? We make it easy and affordable to create custom reusable bags in your school colors that represent your group or club.
Get your Educational Discount on reusable bags!