How to Create Standout Convention Bags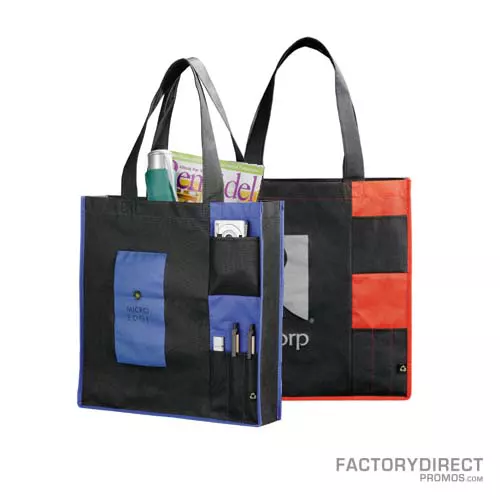 Your Brand's Convention Bags Can Stand out From the Pack by Following These Steps.
When the convention center doors open and the day gets rolling, potential customers will flood the scene, scanning for which brands stand out as they look for the best promotional products they can get their hands on.
Convention bags are an easy way to spread brand awareness to potential customers directly at the point of contact, with the hope that your message continues to spread through word of mouth as the bag continues to be used.
Of course, there will be a focus on which brands are providing quality giveaways. But, offering a reliable, eye-catching promotional product for attendees to carry their other new gear in for the rest of day can deliver a return-on-investment long after the event ends.
Creating a set of convention bags that people will flock to your booth for can be made possible by following these three steps.
Seek Out Customizable Options

Do your homework! A proper convention bag can be customized to fit your brand's exact needs. Certain things to keep an eye out for include a wide variety of complementary colors and the ability to feature an imprinted image of your choice. Appearance and functionality go hand in hand. Maybe zippers and pockets are desired, or a bag with handles is what you are looking for. With more customizable options for all of these aspects, creating a convention bag that pops can become a walk in the park.

Similarly, your needs can be easy to fulfill if there is a wide variety of fabrics, styles and materials available. A bag with an eye-catching design goes a long way.

Choose a Quality, Sturdy Bag That Will Stand Up to Daily Use

As a brand, having a durable promotional product increases the chances of that product becoming a part of an attendee's daily routine. With promotional products such as t-shirts and other wearable items being as common as they are, providing a reusable, reinforced bag as an alternative is a great way to stand out. They can be used to carry around the other promotional items attendees collect during the convention with an opportunity to carve out a role in day-to-day activities like grocery shopping, traveling, or a taking a trip to the gym.

A hat might end up buried in the trunk of a car and a t-shirt could soon realize it's fate as a utility rag. But, a convention bag that appeals to the attendee on multiple levels has staying power.

Look into Products Made of Recycled Materials

Using eco-friendly products is wise because they are accessible and provide a marketable stand-alone feature for your product that will reflect well on your brand. Because of this, attendees that are drawn to your convention bag will see it in a positive light and it will likely lead to your brand having standing above the rest. Whether you go with recycled drawstring bags or recycled shopping bags, those options and many more give a good chance of increasing brand visibility. Bags that are made with post-consumer materials, keep waste out of landfills and kees the environment a little bit cleaner.
Final Thoughts
When searching for a promotional product to invest in, think of the benefits that a custom convention bag has. The potential for increasing brand awareness, exposure, and providing users with a useful product makes them a solid choice for a company that hopes to leave a lasting impression with potential customers.
Contact us today to learn about the variety of options that we offer for bags that could be used at your next event.
Tagged