Plastic Bag Fee Makes a Big Impact in the Centennial State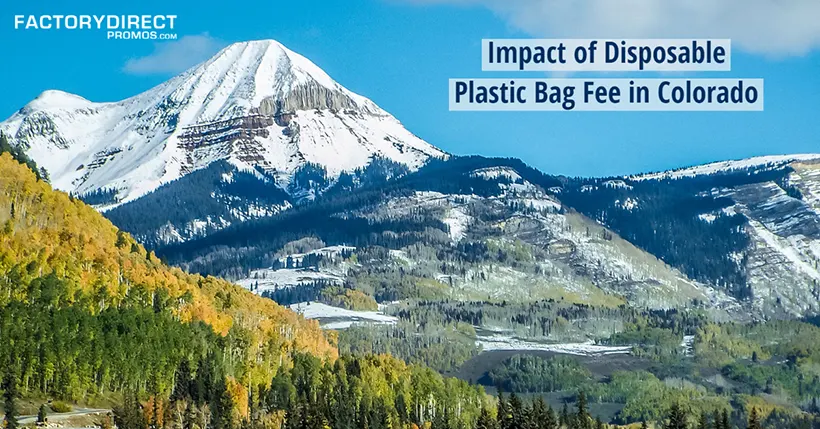 Colorado has implemented a measure to phase out disposable plastic bags. The first part of the plan has been put into motion, and local recycling facilities are already seeing a change for the better in Colorado's efforts to reduce single-use plastic.
Going Green in Colorful Colorado
Efforts to ban disposable plastic bags at a state level have been underway in Colorado for over a decade. The Colorado Legislature voted down a proposal to ban disposable plastic bags in 2009, and ever since the matter has continually been pursued.
While efforts to reduce plastic waste at a state level have been underway, various cities stepped up to do what they could. Roaring Fork Valley banned disposable plastic bags back in 2011. Aspen implemented a ban in 2012, and while there has been a lot of legal back-and-forth, the measure has been upheld. There have been setbacks as Fort Collins and Colorado Springs officials have tried to pass bag bans and fees with no success.
Learn more about the plastic bag ban movement in Colorado and worldwide by checking out our bag ban map.
Plastic Pollution Reduction Act
Colorado's Plastic Pollution Reduction Act is intended to reduce the use of disposable plastic bags. The measure is intended to be implemented using a staggered approach to help residents and businesses adjust to the new law.
January 1, 2023: Stores must charge a 10-cent fee for each recycled paper or single-use plastic bag used.
January 1, 2024: Stores and restaurants cannot provide single-use plastic bags or containers. Recycled paper bags can be made available for a 10-cent fee.
Impact of Plastic Bag Fee
A facility in Colorado, Eco-Cycle, specializes in handling hard-to-recycle items. Eco-Cycle reports a decrease in single-use plastic bags entering their facility. It's still early, but so far, fewer disposable plastic bags mean savings in terms of money and time. Single-use plastic bags slow down operations and sometimes bring things to a standstill. The thin bags can easily mix with other materials and contaminate the sort, resulting in a time-consuming resort. The flimsy plastic bags can also become stuck and lodged in the equipment. On average, Eco-Cycle spends roughly $100,000 yearly because of the fallout of dealing with disposable plastic bags. Just a few months into the plastic bag fee, fewer of these nuisance bags are floating around Eco-Cycle.
The results in Colorado are to be expected based on other plastic bag fees. A town in Illinois reported disposable plastic bag use dropped by a staggering amount three months after introducing a bag fee.
You Can Help
Do you do business in Colorado, or any place impacted by a disposable plastic bag fee or ban? You can help your customers by creating and distributing reusable shopping bags. Reusable bags fulfill a need and make it easy for your customers to adjust to a more sustainable lifestyle.
Custom reusable bags come in all shapes and sizes, feature eco-friendly materials, and are designed to be reused. We can work with you to create a bag representing your brand, so your customers will display your branding message as they shop. Reusable bags make it easy for your customers to go green. Your customers will likely appreciate this while endorsing your business as they carry your branded bags.
Lead the Way and Create Custom Reusable Bags
Our eco-friendly reusable bags and other products promote your brand and make using less disposable plastic easy for your customers. We've been helping our customers create custom, reusable bags for years and years, and we want to help you, too!
Call us at 866-222-0949 or shop our full line of eco-friendly promotional items and get your custom quote.
Tagged