Maryland First to Ban Foam Food Containers…What Restauranteurs Need to Know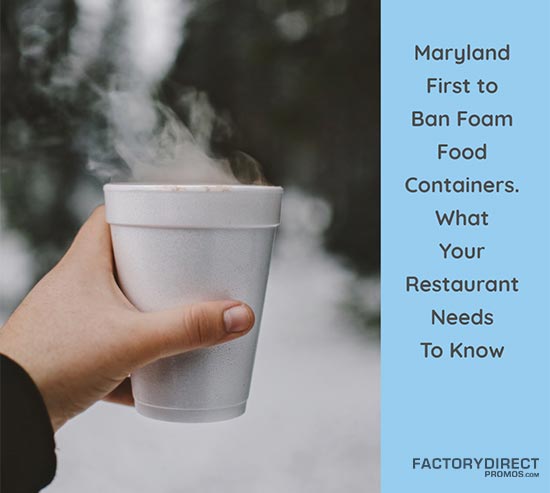 Go Green and Continue to Support Your Customers
Styrofoam is almost as ubiquitous as disposable plastic bags, but much like disposable plastic bags, Styrofoam may become a relic of a bygone era.
Maryland recently implemented a ban on foam food containers made from expanded polystyrene (EPS), more commonly known as Styrofoam.
This is great news for the environment, but it presents a possible challenge to restaurants impacted by the ban.
Find out why Styrofoam is bad and how foam food container bans will probably be like plastic bag bans and move across the country. Restaurants all over the United States need to be prepared for the change.
Applications for Styrofoam
Styrofoam is lightweight, water-tight, and has some insulating properties. This foam material is often used in to-go coffee cups and food containers. It provides an easy way to carry home leftovers or enjoy a warm beverage on the go.
For all the conveniences Styrofoam offers, it also carries a pretty major drawback.
It is very difficult to recycle Styrofoam.
Most recycling programs do not accept Styrofoam. So even if a green-minded consumer wants to responsibly dispose of their foam take-out containers, they seldom can.
Part of the Plastic Problem
High risk of contamination and low return on investment are the two primary reasons why Styrofoam is not accepted into most recycling programs.
Items made from this foam are often contaminated with food and the containers are porous.
In order to be recycled the foam must be cleaned.
Although cleaning them is necessary it is also difficult.
Since recycling is not a viable option, most Styrofoam ends up in landfills or as litter. The lightweight design that makes these containers so great for consumer use, turns into a problem when it comes to disposing of these containers. If they end up in a landfill they are prone to becoming litter as just a strong gust of wind can blow them away.
Details of Maryland's Foam Food Container Ban
Maryland's foam food container ban covers items made from Styrofoam used in the foodservice industry: this includes cups, plates, bowls, trays, etcetera.
The ban applies to restaurants and schools.
While this ban was initially supposed to roll out on July 1, 2020, the start was delayed until October 1, 2020, due to the Coronavirus pandemic.
Going Green and Moving Forward
Banning Styrofoam is good for the planet. It will reduce trash and litter which is good for the environment. With Styrofoam items no longer available, the foodservice industry needs to find eco-friendly alternatives.
There are many types of eco-friendly food containers that can be used in place of foam containers.
In fact, our sister brand can easily create customized, logo'd, eco-friendly food containers for restaurants.
But those types of packages can use all the help they can without the insulating property of styrofoam.
That's why we are offering up one of the best alternatives to styrofoam food containers that will keep cold food cold and hot food hot on delivery.
Beginning of a Trend
We anticipate other states will follow Maryland's lead and implement Styrofoam bans of their own.
This is definitely good news for the planet, but if you work in the foodservice industry then now is the time to start planning ahead.
A Styrofoam ban may impact your business in the near future, but even if it doesn't, finding a safe and eco-friendly alternative to styrofoam food containers for your restaurant, benefits the planet and your business.
Learn More
We are passionate about sustainability and reducing litter. For over 10 years, we have helped our clients create unique and eco-friendly promotional products that grow their brands while reducing trash and litter.
We routinely share information like this that helps businesses navigate changes with ease.
If you want to stay in the know regarding eco-friendly marketing or how to help your business go green, be sure to sign up for our newsletter.
Thanks for stopping by!
Tagged