The Surefire Way to Attract Repeat Retail Business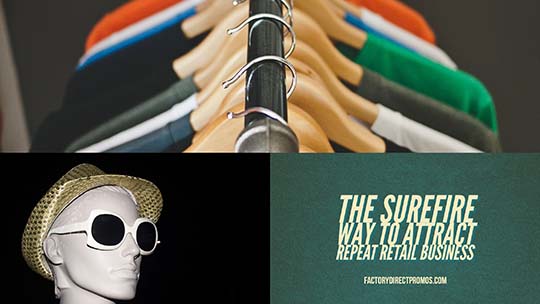 Here's How to Put Reusable Shopping Bags to Work for Your Brand to Attract  Repeat Business!
Many retail businesses concentrate their marketing efforts on gaining new customers. You certainly want to grow and expand your customer base. But for long-term success, it is also important to maintain and build upon the relationships you already have with existing customers.
You want to create retail brand advocates and make sure those customers know they are appreciated. So in order to attract repeat business, you need to have a great product. Done.
Next, you need to develop a relationship with each of your customers that makes them feel like part of your brand. This is where reusable shopping bags for retail can help build the relationship and help you attract that important repeat business.
Relationships Matter Today in Business More Than Ever
There are too many competitors that also have a great product and are working to build relationships with your market share. That's where "The Gift with Purchase, That Keeps On Giving" comes into play. It's easy and will put your brand and your customers together working to save the planet and save them money.
How does that sound? Here's how to do it.
Create custom reusable shopping bags in many sizes to offer as a "thank you" gift with purchase. You can also offer your custom reusable shopping bags as a gift with minimum purchase. Your customers will be thrilled to receive a free gift, but you can expand on this offer.
Offer Special Discounts When Customers Bring Your Reusable Shopping Bags
Let your customers know, as they check out, as well as by placing the info on the bag, that each time they bring their bag back in to shop, they will receive a discount; either a percentage or a flat fee taken off of their purchase for going reusable with your brand.
To make it fun, you can offer a standard discount for everything that can fit in the bag. That is where the different sizes can make things interesting. You can also create seasonal bags to mix it up and generate interest. Or you can offer special edition bags that offer more of a discount to celebrate a milestone or event.
Factory Direct Promos is Here to Help
After more than 20 years as a leading manufacturer of custom reusable shopping bags, we know a few things about attracting repeat customers. We are proud to say we have customers that feel more like family than clients. Our existing customers know how much we care about creating something unique to their brand and how easy and cost-effective we make the process.
From non-woven polypropylene to recycled, and every eco-friendly material in between, we can help you create custom reusable bags that work to attract repeat business. Explore our collection of promotional bags now or get your custom quote from the form on this page. We are here to help you create custom reusable shopping bags that best suit your needs.
Tagged