Summer Sale on Reusable Tsunami Bags for Eco-Friendly Marketing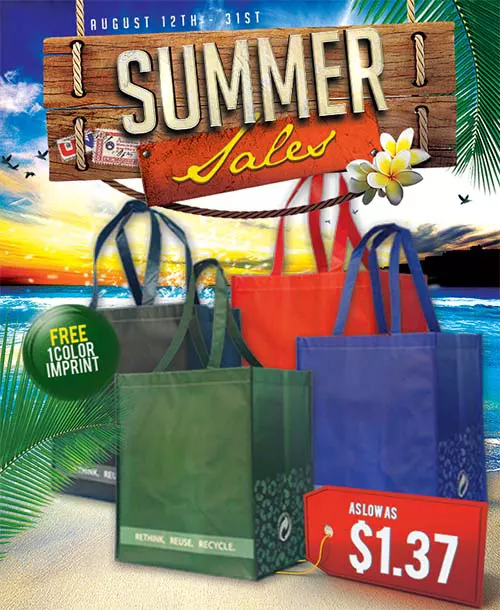 Our Summer Sale On Reusable Tsunami Bags Makes Now a Great Time to Go Green with Your Marketing!
Now until August 31 you can score a great deal on our reusable tsunami bags. During our summer sale, these durable, certified reusable bags are priced as low as $1.37, and as always you get a free 1-color imprint. If you've been thinking about picking up some customized reusable bags to go green with your marketing, now is your chance to get one of our top selling styles at a really amazing price.
Reusable Tsunami Bags Designed for Function
At 13" x 15" x 10" the tsunami bag is a great size to carry goods home from the store, carry items to work, or just keep as a handy bag to have around. The bag also folds flat, so it can easily be stored in a car, desk drawer, or anyplace close by so your customers will have a bag whenever they need it.
These reusable bags are made from a really awesome laminated, recycled material that has a smooth finish and lends the fabric some extra durability while also being moisture-resistant. The fabric is made from recycled content, which will keep material out of landfills and stay in line with your company's green goals, while also letting your customers know that you brand is serious about your environmental stance. The bags come in a variety of different colors and we offer a wide selection of imprint colors so you can customize this bag to suit your marketing needs.
Put Reusable Tsunami Bags to Work Marketing for Your Brand
Reusable bags make a great promotional tool because your customer's will carry the bags on a regular basis. When your customers carry your branded, reusable tsunami bags they will become more familiar with your brand, and they will establish a relationship with your brand. When your customer's carry your branded bag, they function like a mobile billboard and introduce your company to people they encounter, like friends, family, coworkers and even people they pass in the store and on the street.
When people carry your branded tsunami bag, they are offering a silent endorsement which gives your brand credibility. Custom reusable bags have a marketing reach that is almost unmatched since they place your branding message in front of people who you may not reach otherwise. Due to their durable construction, our reusable bags also offer a great ROI, so the bags you buy now will be spreading the word about your brand for years to come.
If you have questions about the bag or the design process or really anything at all please get in touch and we'd be glad to help you out. If you are ready to get started you can head here and request a quote, but either way make sure to get your order in by the end of the month in order to take advantage of this great sale!
Tagged