Do Not Miss This Earth Day FLASH SALE on Insulated Totes!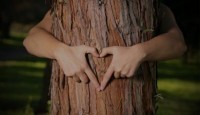 Secure a Great Deal on These Reusable Insulated Totes
We are running an eco-special on our reusable insulated totes in honor of Earth Day! For a limited time, you can take advantage of next column pricing on our Ecolife Insulated Tote!
The Fine Print
This eco special is available on orders placed on our Ecolife insulated totes from April 18 through April 25. Orders must be for a minimum of 250 totes. Orders placed during this time will receive next column pricing, which means you can purchase a small quantity and receive the same discount per item as if you purchased a large quantity.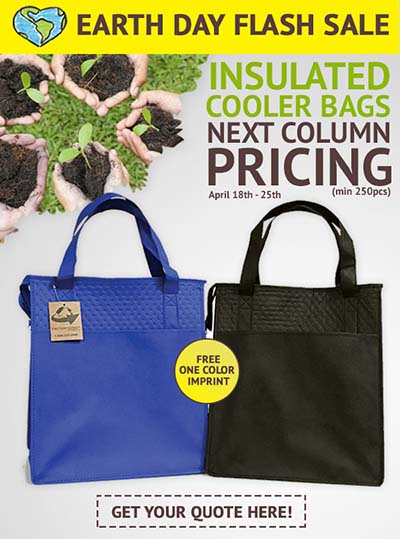 Understanding Next Column Pricing
When ordering custom-made promotional products, typically the more items you order the lower the price per item. From a manufacturing perspective, this makes sense because the setup work is usually about the same for an order of 200 as it would be for an order of 20,000 items.
The variables that increase the cost are materials and time. When these expenses are spread out over a larger quantity the cost per item is less. When we offer next column pricing you pay the same price for your order as if you had purchased a larger quantity.
The Right Bag for the Job
Our insulated totes measure 13″ wide x 15″ high x 10″ deep, making them spacious enough to carry frozen groceries home from the store or if used sideways they can accommodate a roasting pan or large dish and keep items warm on the way to a dinner party. This bag really stands out when custom designed in full-color branding.
The thermal film insulated interior effectively keeps items cold or hot without adding a lot of bulk. The premium non-woven polypropylene material and reinforced handles stand up to regular use and will ensure this reusable bag will last for many years.
The handles are reinforced for added durability and at 20″ long the handles easily slip over a shoulder for comfortable carrying. Our CEO, Bill, even carried a pack of bottled water to a trade show, walking over two miles, and this bag held up great and so did he! Our Ecolife insulated totes also boast a large outside pocket and zipper closure for added convenience.
Benefits of Marketing with Reusable Bags
Reusable bags make fantastic promotional products because they serve as constant reminders of your brand. When your customers use your branded insulated totes they will think about your brand and they will also position your marketing info in front of a wider audience.
Given their reusable design, these bags also align with any green or environmental goals your brand has established. Lastly, reusable bags are built to last. Given regular use our insulated totes should last for at least several years, delivering an incredible return on your investment.
Request a Quote
If you have been thinking about marketing your brand with custom insulated totes this eco special is a great way to test the waters and save money, while also finding out what reusable bags can do for your brand firsthand. The real benefit of this special comes with ordering a low quantity since you receive the price break associated with a higher quantity.
If you want a limited edition promotional item to give to a select number of customers or visitors to your tradeshow booth this is a cost-effective way to do that. Learn more about our eco special and request a quote now to secure a great deal on our Ecolife insulated totes!
Tagged