Get Our Favorite Reusable Bags at The Lowest Prices Ever Offered!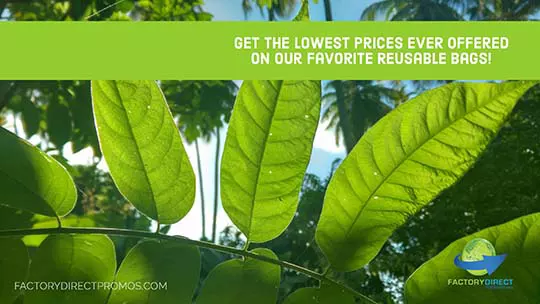 Act Fast to Get The Lowest Price EVER Offered on Our Staff's Favorite Reusable Bags!
For a limited time, we are running an eco-special on four of our staff's favorite reusable bags. When you place a minimum order of 250 bags by March 31, 2018 you can secure EQP (end quantity pricing) on these great reusable bags. Learn more about the reusable bags our staff chose to include in this eco special and how to go about customizing your bags.
Now is the Time
If you have been wondering about whether marketing with custom reusable bags is right for your brand this is a great way to order bags for a super low price and find out. Or if you want to order a lower quantity of bags now is the time to do so while paying a great price. We have NEVER offered these prices on so many of our favorite reusable bags at one time. Don't miss out.
End Quantity Pricing
End quantity pricing, also known as end column pricing, basically means you can purchase a small quantity while locking in the same price break that would typically be reserved for large quantities. Usually, the higher the quantity purchased the lower the price per bag. This pricing structure accounts for the increase in materials. When you need to purchase large quantities this pricing structure works out great, but sometimes you only need or want a small amount.
Reusable Bags Included in the Special
This eco special includes four different reusable bags chosen by our awesome Factory DIrect Promos' team. Our team weighs in with their insider thoughts on what makes each bag so great. Check out the insightful feedback from our team to learn more about each bag we chose for this special pricing.
EcoLife Insulated Tote
Our spacious EcoLife insulated totes feature a thermal film insulated interior that effectively maintains the temperature of whatever is placed inside. Keep takeout warm or frozen groceries chilled on the ride home. Reinforced handles means this bag can carry a heavy load. The large outside pocket is a great spot to stash a grocery list, coupons, keys or other items. As part of this eco special, our insulated totes are available for the low price of $2.97 per bag.
Reusable Tornado Bags
At 13″ x 12″ x 6.5″ our reusable Tornado bags are big enough to easily carry a full load of groceries, without weighing your customers down. Reinforced handles can support up to 25 lbs. The contrasting gusset gives the bag character while the recyclable material makes these bags eco-friendly. For a limited time our tornado bags are available for a super low $.99-cents each.
Reusable Hurricane Bags
The large size of the reusable Hurricane bags means they can take care of business. Both the handles and the bottom are reinforced to ensure these bags stick around and spend many years spreading your brand's message. The 120 GSM heavy-weight material is made from recycled content, making it an eco-friendly addition to your marketing lineup. During the sale our reusable hurricane bags are available for the lowest price ever of $1.24 per bag.
4-Bottle Wine Totes
Our 4-bottle wine totes were built to safely and dependably carry wine bottles, but they work great for just about anything. Separate compartments keep bottles secure to prevent damage. The long 23″ handles can easily be slung over a shoulder for comfortable and hands-free carrying while the bottom board insert adds stability. At $1.17 each these bags are a steal.
Put Reusable Bags to Work for Your Brand
The benefits of marketing your brand with custom reusable bags are two-fold. When your customers see and use your branded bag they will be reminded of your business and over time they will develop a positive rapport with your brand. The second perk of getting custom reusable bags into your customer's hands is that as your customers carry and use your bag they will get your marketing information in front of a wider audience. Everyone they see will be exposed to your message. As an added perk, reusable bags are built to last, so they will deliver these benefits for many years.
Select Eco Specials
This is our first eco special of the year, and it is just one of a limited amount of specials we'll have available throughout the year. Get this deal now!
Tagged