The Future of Sustainable Promotional Products
Promotional products are branded items that get the word out about your brand. Sustainable promotional products are reusable items that hang in there for hundreds, if not thousands, of uses while promoting your business. Sustainable promotional products are important because customers want environmentally and socially responsible products. Learn more about the latest trends in sustainable promotional products.
Recycled Materials
Plastic can be repurposed and recycled into new items. Recycled content is beneficial because it keeps plastic out of landfills and reduces the need for new, virgin materials. Often, some new materials are mixed in during the recycling process to provide strength and durability, but using some recycled content cuts down on the need for new materials. Recycled bags are made from existing materials manufactured into new bags. We offer a range of recycled materials, including RPET, woven, and non-woven polypropylene. Each fabric offers its own advantages and texture and is all environmentally friendly.
Laminated Grocery Bags
Our metallic laminated grocery bags are made from non-woven polypropylene. The lamination process helps the bags keep their shape and lends them durability while creating a smooth finish.
Recycled Grocery Bags
Our recycled grocery bags are made from RPET or recycled polyethylene terephthalate. These bags feature three predesigned layouts, which, coupled with your artwork, give them a highly customized appearance.
Sustainable Materials
Sustainable fabrics are natural fibers, like cotton and jute. The plant fibers are processed into a durable material with a natural look and texture. Sustainable promotional products can be recycled to create new fabrics but are also biodegradable. Natural fibers can only be processed and recycled so many times. Once sustainable materials can no longer be recycled, they can be tossed in a landfill where they will biodegrade.
Promotional Cotton Bags
The 7-ounce cotton canvas of these promotional bags is lightweight but can still hang in there for continued use. The handles are comfortable to wear over the shoulder, and a wide array of material colors makes it easy to get the look you want.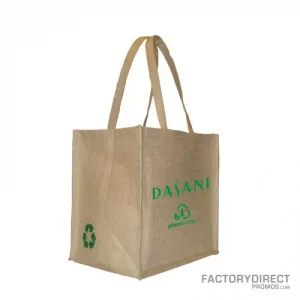 Natural Jute Bags
Jute is a natural fiber with a very textured finish that gives the bag character while also lending the tote strength. Our natural jute bags have a natural look that still accepts printing beautifully and a spacious interior.
Sustainable Promotional Products
Promotional products are available in various forms, whether you want reusable bags, drinkware, pens, or lanyards. Sustainable promotional products are good for the planet and your brand, and many consumers prefer environmentally friendly products. Learn more about the environmentally friendly materials available to create custom and sustainable promotional products.
The Future Is Now
Promotional products have a proven record of effectively reaching customers and expanding a brand's reach and awareness. Selecting sustainable promotional products provides excellent value and return on investment, but it also appeals to customers who want to make environmentally responsible decisions. We've been helping our customers create custom, reusable promotional products for years, and we want to help you, too!
Call us at 866-222-0949 or shop our full line of eco-friendly promotional items and get your custom quote.