How to Utilize Custom Marketing Products in a Restaurant's Marketing Strategy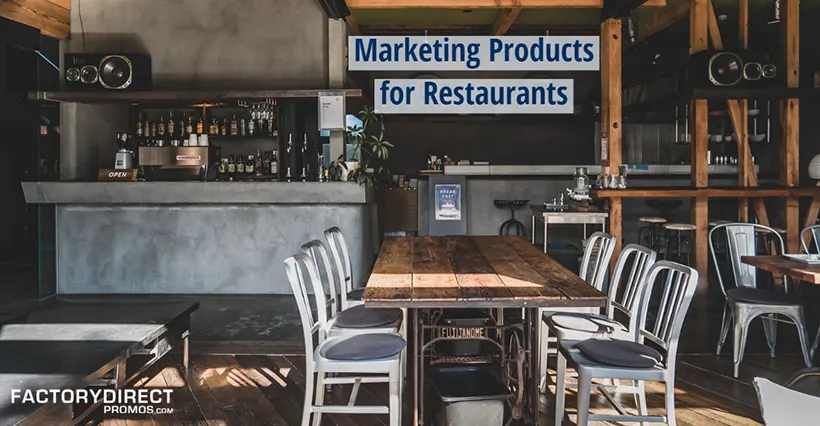 Help your restaurant or cafe stand out with an effective marketing campaign by utilizing custom marketing products. The restaurant industry is competitive, and custom marketing products can help distinguish your brand. Turning your loyal customers into brand ambassadors is an effective way to promote your business. Your customers will spread the word about your brand and provide a recommendation as they use your promotional product.
Extra Revenue Stream
Selling marketing items is a way to boost your revenue. Swag sales likely won't outpace your menu items, but it can help increase profits while growing your brand. People like to support their favorite businesses and purchase things that remind them of a great meal or memorable experience. Selling branded items provides a souvenir your customers can take with them.
You can also offer a loyalty program. Give customers a punch card, and after they purchase ten coffees, ten lunch specials, or a specific number of whatever product you select, they get a free gift. The free gift can be a branded promotional item. A loyalty program encourages repeat business and gets people coming back while then turning those customers into walking billboards for your business.
Worth the Effort
Your customers are more likely to use promotional products that appeal to them and fulfill a need but give them another reason. Consider running a promotion where your customers take a picture of themselves using your branded product, post it to social media, tag three friends, and tag you. Pick one post at random each month and DM the winner a one-time code for a discount or a free item on their next visit. Make it fun and give your customers a reason to use your marketing products, engage with your business, and increase your brand's awareness.
Custom Coolers
Cooler bags make it easy to keep takeout warm until you get home, but our insulated tote bags can also be used for grocery shopping or day trips. The flexible functionality of these cooler bags makes them useful and thoughtful marketing items. Our insulated totes can be used with hot or cold items and feature comfortable handles and top zipper closure. You can send us your artwork, and we can customize our in-stock bags with your logo, or take advantage of our bulk ordering to alter the design and make something truly unique.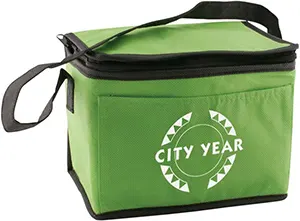 If you like the idea of a cooler bag but are interested in something smaller, we also offer lunch totes. The compact size is ideal for picking up lunch to go, bringing lunch to work or school, keeping drinks cold during a workout, or bringing snacks on the go. These cooler totes can be used for hot or cold items and feature a handle, zipper closure, and a front pocket to stash napkins and utensils.
Reusable Coffee Mugs
Reusable tumblers or coffee mugs are a natural fit for a diner or coffee shop. Choose from BPA-free plastic or stainless steel to complement the look of your branding. Most of our mugs feature closure to prevent spills, and the mugs fit in most car cupholders for easy use on the go.
These mugs reduce the need for disposable cups, so encourage your customers to bring their branded travel mugs in and give them a small discount since they are helping the planet and promoting your shop.
Reusable Straws
Single-use plastic is bad for the planet. Disposable plastic straws are just part of a bigger problem, but they are still likely to end up as litter. Give your customers the option to sip their sodas or smoothies while being eco-friendly with reusable straws. We can help you customize the storage pouch with your branding, so your customers will think of you and how thoughtful and proactive your brand is concerning environmental issues each time they reach for their straw.
Tote Bags
The tried and true reusable tote bag is always an effective way to connect with customers. Tote bags make it easy for customers to carry to-go orders but also serve a purpose beyond your restaurant. Customers can use your branded totes as grocery bags or for anything else.
Get Your Restaurant Noticed
Marketing products are a great way to promote your business while allowing your customers to support your brand. Choose an item that appeals to your customers because it will likely get plenty of use and increase your brand's exposure.
We've helped many industry-leading brands promote their business, and we want to help you too! Let us know if you have questions about our products or the process or if you want to get started.
Call us with any questions at 866-222-0949 or get your customized quote on any of our reusable items for marketing and retail use.
Tagged