Travel Alert: Airport Reducing Single-Use Plastic and Creating Need for Reusable Products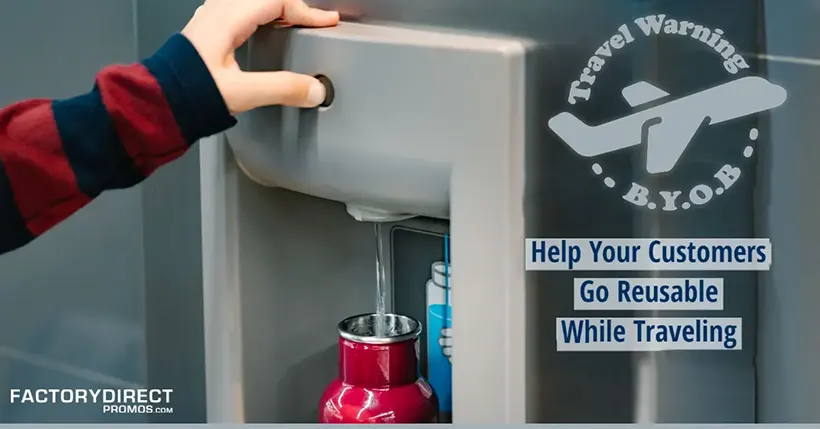 A major U.S. airport is taking a big step in its efforts to go green and reduce waste, creating a need for travelers to bring reusable alternatives. Los Angeles International Airport (LAX) has banned the sale of single-use plastic water bottles in the facility. This measure will significantly reduce the amount of trash generated by the airport. The ban also means travelers have an opportunity to go green and they can promote your brand at the same time.
Disposable Plastic Bans
Sales of water in single-use plastic bottles averaged more than 24,000 bottles each day. Some of these bottles are recycled, but others are not, and it generates a tremendous amount of unnecessary trash. The disposable water bottle ban allows passengers and the airport to reduce their respective environmental impacts. "Eliminating single-use plastic water bottles is the right thing to do for our airports, our communities, and our environment," said Justin Erbacci, CEO of Los Angeles World Airports (LAWA), which includes LAX and Van Nuys Airports. Officials plan to make the airports zero waste by 2045.
LAX is not the first airport to ban disposable plastic water bottles. San Francisco International Airport (SFO) became the first to ban plastic water bottles in 2019. The ban in San Francisco was extended to include disposable bottles for other beverages in 2021. San Fransisco's ban diverts one million beverage containers made from fossil fuels from landfills annually.
Reusable Alternatives
Water is still available for sale at LAX in single-use cartons, glass bottles, and recyclable aluminum bottles, although passengers are encouraged to bring reusable water bottles. The bottles must be empty when going through security, but the reusable water bottles can be topped off at filling stations throughout the airport.
The disposable water bottle ban creates a need for reusable water bottles. Travelers need a durable container that can be used repeatedly. Custom-branded water bottles fulfill this need while spreading the word about your business. Reusable water bottles are always in demand and a customer favorite, but there will likely be even greater demand for reusable water bottles going forward. The disposable plastic bag ban (link at top) movement started similarly and has spread nationwide. Other airports and facilities may follow this lead and ban disposable plastic water bottles. Help your customers easily adapt by providing reusable alternatives.
Choose the material and bottle design that works best for your brand and budget, and we can help you customize the look to align with your branding.
Stainless-Steel Reusable Water Bottles
Our stainless-steel water bottles feature a wide-mouth design and a screw-on lid that provides an easy grip while carrying on the go. These durable water bottles are built to last. Choose from three imprint areas so your logo and branding message will be seen.
Transparent Reusable Water Bottles
These reusable water bottles are made from recycled BPA-free plastic, so they are safe and eco-friendly. The flip-straw opening allows for easy, spill-free sipping, and the built-in handle makes it easy to grasp this bottle while heading to security or walking to your terminal. Bulk ordering secures an even lower unit price, helping you get the most for your marketing budget.
Collapsible Water Bottles
Think outside the traditional reusable water bottle design with these collapsible water bottles. The BPA-free plastic ensures these bottles are safe, while the material folds flat, so these bottles can be tucked into a carry-on or pocket when not in use. The handle allows easy carrying, or you can use the carabiner to attach this reusable water bottle to a backpack or purse.
Help Your Customers and Promote Your Brand
Our eco-friendly promotional products can be customized with your information to increase your brand's recognition and awareness. We've been helping our customers create custom products, like reusable water bottles, for years, and we want to help you too!
Call us at 866-222-0949 or shop our full line of eco-friendly promotional items and get your custom quote.
Tagged