30 Promotional Drinkware Options to Pump Up Your Brand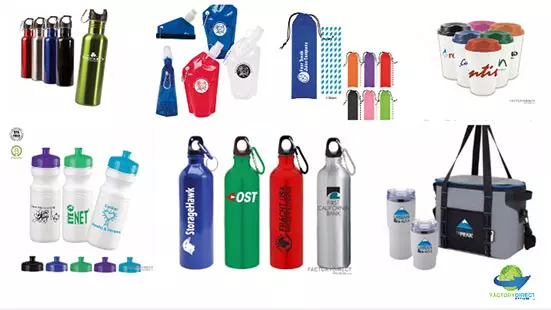 Ensure Your Brand is Top of Mind With Each Sip
Reusable promotional drinkware can come in many forms, but whichever item you choose will effectively promote your brand. People use and want reusable drinkware items. People get into the habit of always taking their morning coffee to go, using an insulated tumbler to enjoy a drink on their patio, or taking a water bottle when they work out.
Increased efforts to reduce disposable plastic items, like straws, have also caused an increased demand for reusable straws.
There is a need for reusable drinkware, and when you fulfill this need with your branded items, you will endear your brand to your customers while also promoting your business. We have a great selection of promotional reusable water bottles and straws, so you are sure to find just the right item for your brand.
Customized to Fit Your Brand
We offer wholesale pricing and full customization options. So you can create something unique that represents your brand while also making the most of your marketing budget. You can customize any of our in-stock items by selecting the product color and sending us your artwork.
Or you can take advantage of our low wholesale pricing if you want to order a large bulk quantity or alter the design of an item and customize to fit your brand. All of our reusable drinkware items are BPA-free, so they are safe to use.
Benefits of Marketing With Promotional Drinkware
Branded products are great marketing items because they remind your customers of your brand. Every time your customers fill up your branded water bottle or tumbler or reach for your custom straw, they will think about your brand and appreciate the usefulness of your promotional item.
When your customers use your branded items, they will promote and endorse your brand to everyone they encounter.
Reusable drinkware is eco-friendly partly because it eliminates the need and use of disposable items. Reusable items made from recycled content, or content that can be recycled, further increasing the eco-friendliness of the item.
Choosing eco-friendly marketing items reduces the environmental impact of your business while also making it easy for your green-minded customers to use less disposable plastic.
Customized, Promotional Stainless Steel Water Bottles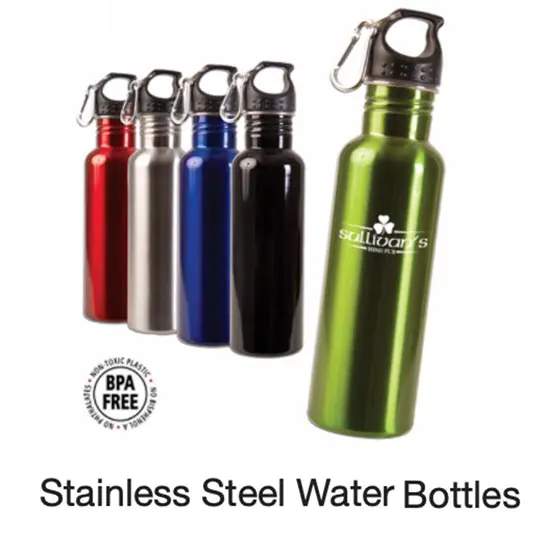 Stainless steel is easy to clean, and it does not stain or absorb colors or odors, making it an excellent option for reusable water bottles. Many of our stainless-steel water bottles feature the option to include a clip so that these durable bottles can be attached to a bag or even a belt loop.
1. Custom Reusable Water Bottles
2. 17oz Steel Branded Bottle
3. 20oz Branded Stainless Steel Bottles
4. 25oz Stainless Steel Bottles for Marketing
Branded Eco-Friendly Eco Aluminum Water Bottles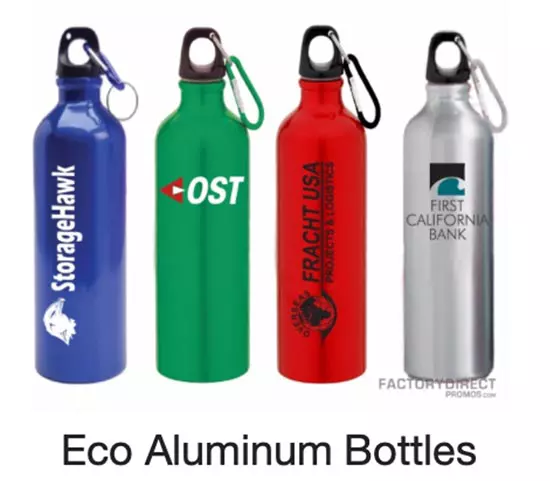 Aluminum is lightweight and cost-effective. Like stainless steel, aluminum does not absorb dyes, food coloring, or odors and is easy to clean. Aluminum water bottles are great to pack on trips or take on the go due to their lightweight construction.
1. 20oz Eco-Friendly Aluminum Water Bottles
2. 22oz Aluminum Water Bottles
3. 25oz Eco-Friendly Aluminum Water Bottles
4. Custom Reusable Aluminum Water Bottles
Eco-Friendly Plastic Water Bottles with Your Logo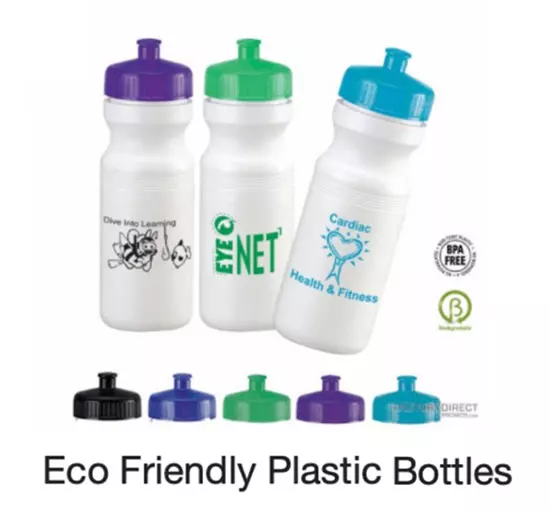 We have a wide selection of plastic water bottles in different shapes and sizes and different lid options. While we have a lot of variety in our lineup of plastic water bottles, one thing each style has in common is that they are all made from BPA-free plastic. Bisphenol A (BPA) is a synthetic compound found in certain plastics that can leach into food and beverages and cause health problems if consumed. We ensure that our plastic water bottles are BPA-free, safe, and provide peace of mind.
1. 18oz Branded Transparent Bottles
2. 20oz Transparent Bottles
3. 24oz Transparent Bottles
These sleek transparent water bottles can be branded to your marketing goals and stand out to get your message noticed. The contoured shape fits into most vehicle cup holders for added convenience.
4. 27oz Transparent Branded Bottles
5. 28oz Branded Transparent Bottles with Pull-Top Opening
6. Fully Customized Reusable Bottles
Eco-Friendly Mugs and Tumblers
Mugs and tumblers are usually more specialized forms of drinkware. The mugs can be insulated to keep coffee or tea warm. Some of the tumblers have double-wall construction to keep chilled drinks cold or straws for easy sipping.
1. 16oz Stainless Steel Tumblers
The stainless-steel exterior of these tumblers provides durability, so these travel mugs will be out there promoting your business for a long time while also keeping your customer's drinks warm.
2. 24 Hour Tumbler with Logo
Thanks to the double-wall vacuum construction, our 24-hour tumbler earned its name by keeping cold liquid chilled for up to 24 hours. These tumblers are also rated at keeping hot liquid warm for up to 5.5 hours. These mugs also support full-color printing and a wrap imprint area, so you can go bold with your artwork to help your marketing message get noticed.
3. 21oz Blender Bottle (aka: Shaker Bottle)
Blender bottles are great for mixing shakes and powder drinks. The flip-top lid allows for easy sipping or pouring. While the built-in handle makes it easy for your customers to grab this bottle as they head out the door.
4. Eco-Insulated Mug for Marketing
5. Econo Polypropylene Cups with Logo
6. Infinity Mugs for Marketing
These classic travel mugs can be used with both hot and cold beverages. The slim design fits most vehicle cup holders, while the adjustable lid can be closed to prevent spills.
7. Logo Branded Recycled Coffee Cups
8. Stainless Steel Mugs
Eco Folding / Collapsible Custom Water Bottles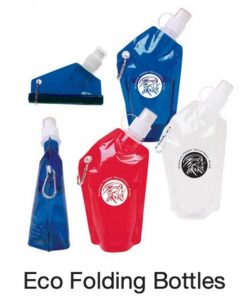 Folding water bottles offer the convenience of a water bottle but are great for packing since they can be flattened or folded when empty. These water bottles are ideal for hiking or traveling, but they are also handy to use in a lunch box or to toss in a desk or glove compartment just in case.
1. 12oz BPA FREE Collapsible Bottles for Marketing with 5mm Carabineer Clip Included
2. 25oz Collapsible Bottles with Handles
Eco-Friendly Promotional Straws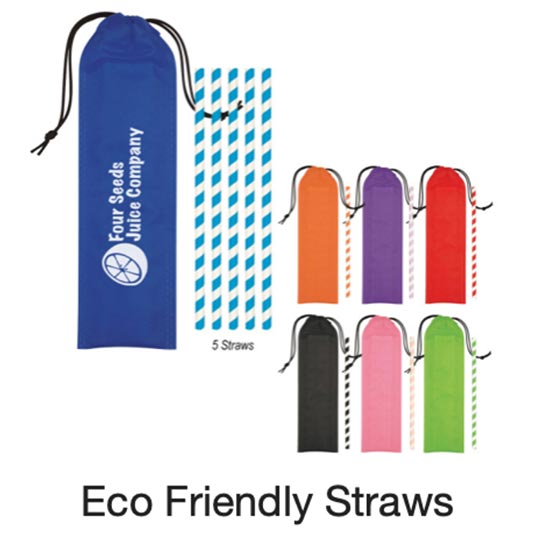 Reusable straws are an eco-friendly alternative to single-use plastic straws, which commonly end up as litter and are seldom recycled. Our selection of eco-friendly promotional straws includes straws made from stainless steel and silicone, and we also have paper straws available.
1. Branded Collapsible Stainless Steel Straw Kit
These collapsible straws fold up and fit into a compact case with a clip, making it effortless to take them along on the go. We can print your logo or other custom artwork on the case for a quick reminder about your brand. The included brush makes it easy to keep the straw clean in between uses.
2. Branded Silicone Straw in Travel Case with Split Ring
3. Stainless Steel Straw Kit with Cleaning Brushes
Customized Promotional Kits
1. Fully Customized Promotional Drinkware Kit
Make a HUGE impact with whatever you can dream up! Add a promotional bag like a reusable lunch bag or work with our sister brand, Superior Business Solutions, and create a totally customized promotional kit full of drinkware with your logo on both the drinkware items as well as the container. Choose a beautiful container that can be used on a desk or at home.
The drinkware items will be appreciated and will ensure your customers remember your brand. Add any other promotional items you can dream up to create the best customized promotional kit for your customers, prospects, and employees.
Let's Do This
Creating eco-friendly promotional products is something we are very passionate about, and it's also something we have been doing for over 10 years. We have learned how to save time and money during that time, and we pass these savings along to our customers.
You can learn more about our eco-friendly company and its capabilities.
If you are ready to create your very own promotional gear, then shop our large selection of eco-friendly promotional drinkware and get your custom quote today!
Tagged