What You Need to Know About New Jersey's Bag Ban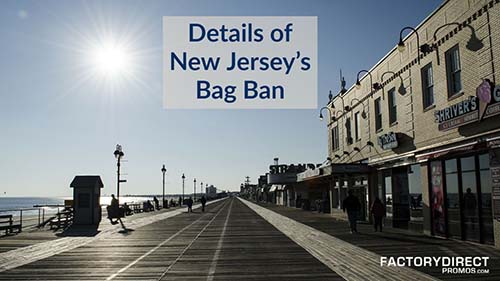 How the Garden State Is Going Green
New Jersey is about to become the next state to ban single-use plastic bags. Like most bag bans, it has been a process, and there were some unexpected turns along the way. Since the start, we have been following the journey, and you can learn more about the bag ban movement on our map. Find out what you need to know about New Jersey's plastic bag ban and how we can help your business and your customers adjust.
Background Info
New Jersey joins a growing list of states to implement plastic bag bans, including California, Connecticut, Delaware, Hawaii, Maine, New York, Oregon, Vermont, and Washington. Colorado will join the list when its bag goes into action in 2023. Plastic bag bans are nothing new to New Jersey since 120 municipalities have passed and implemented bag bans before the passage of the state law.
This law isn't even the first attempt to ban single-use plastic in the Garden State. In 2018, a state bag ban made it to Governor Phil Murphy's desk only to be vetoed. The measure was deemed not effective enough, so officials decided to start over rather than implement it. Murphy signed the new ban, officially known as SB64, into law in November 2020. SB64 bans single-use plastic bags in all stores and restaurants statewide. Paper bags are prohibited in grocery stores larger than 2,500 square feet.
Details of the Bag Ban
New Jersey's ban is considered one of the strongest bans in the U.S. to date. Most bag bans specify the type of bags not allowed, but New Jersey's law outlines the type of bags permitted to be distributed in stores. Bags allowed under New Jersey's law SB64 must meet the following requirements:
Made of polypropylene, PET non-woven, nylon, cloth, hemp, or another machine-washable fabric
Have stitched handles
Designed and manufactured for multiple reuses
The disposable plastic bag portion of New Jersey's ban will go into effect on May 4, 2022. In addition to plastic bags, polystyrene food containers will also be banned on May 4. Disposable plastic straws are only available upon request as of November 4, 2021.
Benefiting Business
Concern for the environment and local industry are the motivating factors behind SB64. Plastic litter makes up almost 80 percent of all the trash recovered at the Jersey Shore. "The tourism economy is very dependent on a clean environment, so we take it seriously," explained Vicki Clark, president of the Cape May County Chamber of Commerce.
In addition to tourism, New Jersey also boasts a thriving fishing industry. "They have been very negatively impacted because of the impact on the fish," says Melanie Willoughby, executive director of the New Jersey Business Action Center (NJBAC). "We want to clean up the waterways by changing people's habits."
How Your Business Can Help
You can help your customers in and around New Jersey by creating and distributing custom reusable shopping bags. Our certified reusable bags meet the requirements outlined by the law and are allowed in New Jersey after May 4, 2022. The customizable design means you can update the look to match your branding, so when your customers carry the bags, your branding info will be on full display. Ordering now ensures you will have your bags in time before the ban becomes effective.
Reusable shopping bags help the planet by reducing trash and litter. In New Jersey, less garbage also helps local industries, like tourism and fishing. Your business can help residents adjust to the ban by creating reusable shopping bags to promote your brand.
Go Green in New Jersey
For over a decade, we've been helping our customers create cost-effective and eco-friendly promotional items. We have worked with many industry leaders, including American Express, Bank of America, Carnival Cruise Lines, Pepsi, The Home Depot, and Whole Foods, and we want to help you, too.
Call us at 866-222-0949 or shop our full line of eco-friendly promotional bags and get your custom quote today.