States Ban the Bag: Delaware Ditches Disposable Plastic Bags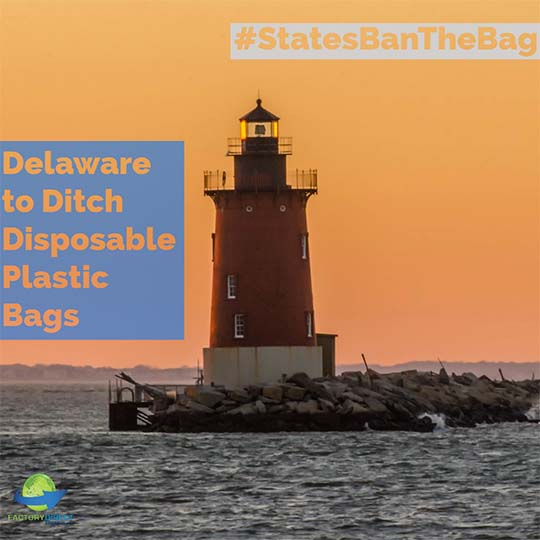 The First State Becomes the Seventh State to Ban Bags
The plastic bag ban movement is continuing to grow and for good reasons. Plastic is bad for the planet, and people are sick of dealing with litter near their homes as well as the ramifications of plastic litter in our oceans. We have been tracking single-use plastic bag bans for a while now, but we recently noticed a trend. More and more states are banning single-use plastic bags. This was the inspiration behind our new series, #StatesBanTheBag. Today, we're looking at the latest developments in Delaware's efforts to ban bags!
Right Place, Right Time
Delaware earned the distinction of being the first state by being the first colony to ratify the U.S. Constitution. This Mid-Atlantic state is relatively small, at just under 2,500 square miles. Delaware only has 30 miles of coastline along the Atlantic Ocean, but if you add up all of the coastal areas along the bays, inlets, and river mouths, Delaware has 350 miles of waterfront. This prime coastal location gives Delaware residents a front-row seat to the damaging impacts of plastic bag litter.
Motivation Behind the Ban
Delaware's ban is intended to reduce trash and the impacts of trash. Discarded plastic bags litter waterways, causing damage to watersheds and habitats. Plastic trash can also block drainage systems, meaning flood waters may have nowhere to go, resulting in extensive and expensive damage.
Preemptively removing litter also carries an expense. Banning single-use bags may seem drastic, but recycling and landfilling are not viable solutions. Banning single-use plastic bags will eliminate the bags and, by default, the negative consequences of the bags.
Current Status
This past June, both the Delaware House and Senate passed a bill that called to ban single-use plastic bags. The final step before the bill could become official was for the governor to sign the bill into law. Gov. John Carney had previously indicated he would sign the bill if it reached his desk; however, once it reached his desk in early June, nothing happened.
This left many people wondering what was going on. On Monday, July 29, 2019, Gov. Carney signed House Bill 130, banning single-use plastic bags in Delaware.
Bag Ban Details
Delaware's bag ban will begin on January 1, 2021. The law only prohibits single-use plastic shopping bags. The ban does not impact paper bags. The ban specifically aims to ban bags handed out at large stores. The ban will impact retail establishments that have 7,000 square feet or more. Stores that have three or more locations in Delaware, with at least 3,000 square feet at each location, will also be banned from handing out single-use plastic bags.
Learn More
We are excited to feature Delaware in our series, and we can't wait to see the positive impact this ban has in the immediate and surrounding areas. Check out our other posts in the #StatesBanTheBag series to learn more about the bag ban movement. Always stay up-to-date when green news breaks or when we offer an eco special by signing up for our newsletter!
Tagged