Update On Plastic Bag Ban in North Carolina's Outer Banks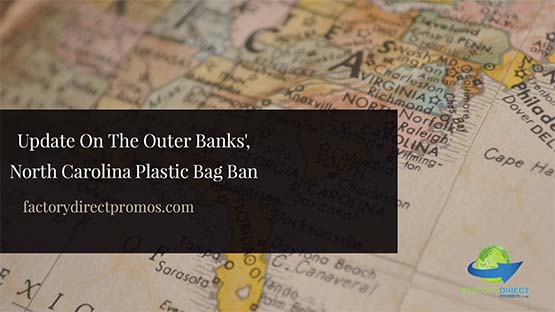 Bag Ban Update in North Carolina
As plastic bag bans gain momentum in the United States, North Carolina lawmakers recently overturned a long standing plastic bag ban in the Outer Banks. Governor Roy Cooper's veto of an environmental bill was overturned by the General Assembly. After an eight year hiatus, disposable plastic bags will be allowed again in shops throughout the Outer Banks.
History of Plastic Bag Bans in the Outer Banks
In September 2009 disposable plastic bags were banned from large retailers in Currituck, Dare and Hyde counties; the area that makes up the Outer Banks. In October 2010 the ban extended to all retailers in the region, including small souvenir and bait-and-tackle shops. Environmental concerns were a major reason behind the bag ban.
Litter mars the natural beauty of the area where tourism is a significant element of the local economy. Trash, especially discarded plastic bags can wreck havoc on the delicate coastal ecosystem. The ban was temporarily lifted in 2011 after a tornado touched down in the area; however, the single-use plastic bag ban was reinstated in July 2011.
Future of Plastic Bag Bans in the Outer Banks
After a the 70-44 vote in the House and 30-9 in the Senate, lawmakers rolled back the 2009 law forbidding retailers in the Outer Banks, North Carolina from giving customers single-use plastic shopping bags. Lawmakers and businesses in the Outer Banks mostly support the plastic bag bans in the area and disagree with the decision to override the ban.
State Versus Local Governments
This turn of events in the Outer Banks mimics actions in Minnesota and Pennsylvania concerning state government stepping in to offer unsolicited legislation that limits the power of local governments. In these instances the respective state governments are ignoring the wishes and concerns of their constituents and local officials.
Larger Environmental Implications
Overturning plastic bag bans are not the only environmental impact of this bill. Other provisions lift protections placed on drinking water. In a statement from Gov. Cooper he explain, "When it comes to drinking water, legislators should put politics aside and listen to experts. This legislation does not solve the problem and fails to fund the agencies responsible for protecting drinking water and holding polluters accountable. It also unnecessarily rolls back other environmental protections and overturns a local plastic bag ban protecting beaches and water."
Implications of Lifting Plastic Bag Bans
It will take time to fully understand the impact of overturning plastic bags bans on both the local ecosystem and economy. Bag bans are proven to reduce trash and litter through decreased use of single-use bags and increased use of reusable shopping bags. Learn more about how custom reusable bags can help the environment and your brand by contacting us today!
Tagged