The Perfect Pairing for Your Corporate Holiday Gift of Wine, Champagne and Sparkling Juices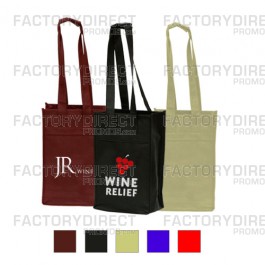 Wine, champagne, and sparkling juices can be a thoughtful holiday corporate gift and one that is sure to please, but your holiday gift should remind the recipients of your brand, and the perfect way to do that is to package, or wrap, your gift in a reusable wine tote bag. A reusable wine tote is good for your brand and the environment Long beyond the holidays.
Spread Brand Awareness with a Reusable Bag
A custom reusable wine tote bag features a reinforced bottom and secure handles to gently support the bottle and make sure it is safely transported.  This specialized bag is designed to comfortably and efficiently carry bottles of wine. The durable design will last for years given normal wear and tear and that means if you gift your customers a reusable wine bag they will still be using it long after the holidays are over and the wine bottle is empty.
Customize the look of your bag by selecting the color of the material and imprinting your company's logo to create a bag that is in-line with your branding and will remind your customers about your company (and your thoughtfulness) every time they see your bag. Further, every time your customers carry your Eco-friendly, customized wine tote they will basically put your branding message on display to everyone they encounter, so your brand will get tons of exposure.
Make Your Gift Eco-Friendly
Traditional paper gift wrap and gift bags can be beautiful and festive, but they are not the most environmentally friendly choices. Some paper wrapping products are more eco-friendly than others, but ultimately a custom reusable wine tote makes the perfect gift bag for wine, champagne, and sparkling juices because it conceals the gift until the recipient opens it and can be used again and again.
Reusable wine tote bags are eco-friendly simply because they eliminate the need for disposable products, but the materials the tote is made from also lend to the eco qualities of the bag.
Sustainable materials, like cotton or bamboo, are natural plant-based fabrics that can be planted, grown, harvested and manufactured into cloth again and again. Such materials are recyclable and biodegradable, so they can be disposed of in an environmentally responsible manner. Recyclable materials, such as polypropylene, are made from plastics and they can be recycled again and again, so the material can be transformed into useful products whenever it wears out.
There is Still Plenty of Time to Design Your Custom Reusable Wine Tote
Reusable bags are a great option to wrap a gift and they will get your branding message in front of your customers for many holidays to come. Selecting a reusable product also helps the environment and stays aligned with your company's green goals. The holidays are quickly approaching, but there is still time to design your reusable bag.
Tagged