The 6 Most Popular Insulated Tote Bags for Food Delivery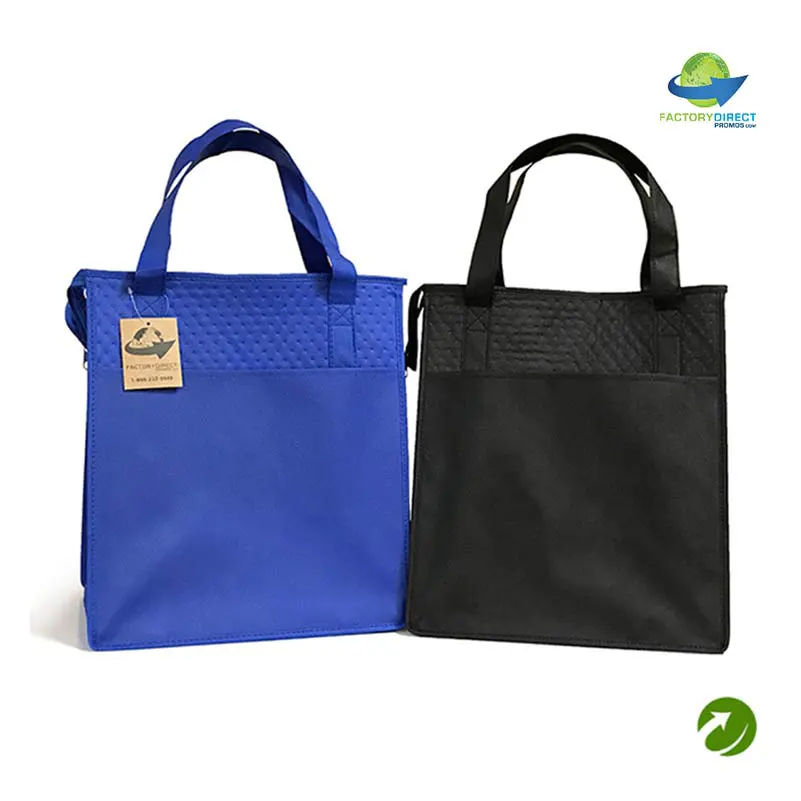 How to Select the Best Insulated Bags for Your Business
Food delivery has been on the rise for a while, and recent measures to help prevent the spread of COVID-19 have caused an increased demand for this service. Many restaurants are using Door Dash and Uber Eats but at the same time, they are also utilizing their own employees for food delivery. We have explained in the past why insulated tote bags are the best option for food delivery.
Insulated tote bags are great for food delivery, but they're also great for promoting your business and expanding the reach of your brand. If you own a restaurant and you have a delivery service, find out what are the most popular insulated bags for food delivery. Also, find out why you should consider ordering your own bags.
Advantages of Insulated Food Delivery Bags
Food delivery bags are simply insulated bags that delivery people can use to easily carry a takeout order while also keeping the food at an appropriate temperature. Not much has changed from when we first explained why insulated tote bags for food delivery were great back in 2017. These reusable bags provide numerous advantages, including:
Reducing the Impact on the Environment
Improving Brand Awareness
Increasing Customer Satisfaction
Materials Are Reliable and Sturdy
Keep Hot Food Hot and Cold Food Cold
Back in 2017, we told you that for the next five years, there was expected to be an estimated 3.5 percent annual growth rate. Nigel Travis, who served as CEO Dunkin' Brands from 2009 until 2019, told Business Insider, "Delivery will be the next wave. It's going to be like a revolution, and I believe it will happen faster than anyone thinks."
Catching the Next Wave
Due to COVID-19, it looks like that anticipated delivery growth is now. Restaurants are closing their dining rooms and people are staying home, causing an increase in food delivery.
The following insulated bags are the six most popular for food delivery:
1. Ecolife Insulated Tote
Our EcoLife Insulated Tote bags measure 13″W x 15″H x 10″G, allowing them to take on large orders. The 20″ reinforced handles make easy work of carrying heavy orders during a busy shift. These tote bags feature a layer of thermal film to maintain the temperature of items placed inside the bag. The zipper closure keeps items secure during transport and the large outside pocket creates space to stash a receipt.
2. Insulated Tote Bag (Medium)
These medium-size Insulated Tote Bags are great for keeping items for delivery at a good temperature and they look good while doing it. The silver and black tweed exterior of these bags look sharp and the large front pocket creates plenty of space to print your logo or other artwork. Measuring 14″W x 11″H x 5″G, these bags can easily fit multiple to-go containers without being too big and cumbersome. The dual handle design makes it easy for this bag to be carried or worn over a shoulder.
3. Insulated Cooler Bags
Cooler bags need to stand up to regular use and easily handle heavy loads. These Insulated Cooler Bags are able to do just that. An insert in the bottom of the bag evenly distributes weight while the reinforced handles hang in there while carrying a large order. These bags are sized to fit multiple containers and measure in at 13″W x 15″H x 10″G. These bags are made from non-woven polypropylene material which is recycled and features an insulating layer of polyester fibers coated with thermal film.
4. Insulated Grocery totes
Choose the bag and imprint color to transform these Insulated Grocery Totes into promotional food delivery bags. Polyester fibers coated with thermal film maintain the temperature of hot or cold dishes while the zipper closure ensures everything is contained. These rectangular bags measure 12″W x 13″H x 8″G, allowing for easy stacking of containers.
5. Promotional Cooler Bags
Your delivery staff will appreciate everything about our Promotional Cooler Bags. The spacious 13″W x 15″H x 9″G size makes it easy to use the bags horizontally or vertically. The terminal film helps to maintain the temperature of items placed inside the bag.
6. Custom Cooler Bags
Everything about our Custom Cooler Bags can be tailored to fit your specific design. We can create something completely unique and one-of-a-kind in order to best serve your staff and your customers. Select the material, add closure or pockets or anything else that improves the function of your custom food delivery bags.
Let's Make This Happen
Food delivery bags are in high demand right now, and it's likely they will continue to stay in high demand. Food delivery is a trend that has been growing for many years and recent concerns over the spread of COVID-19 have only accelerated the demand for food delivery. It's very likely this trend will only continue to grow.
We've been making insulated food delivery bags, as well as other types of reusable bags, for a long time…over 10 years. We've learned a lot during this time which has enabled us to streamline the process to best serve our customers.
If you want to learn more about the best bags for food delivery, how to design insulated tote bags, or anything else, then we are here to help. Our team members are working remotely to help flatten the curve, but we are still available and ready to help. Contact us and let's get started working together on your custom food delivery bags.
Tagged