Design Your Own Tote Bag for Promotional Marketing!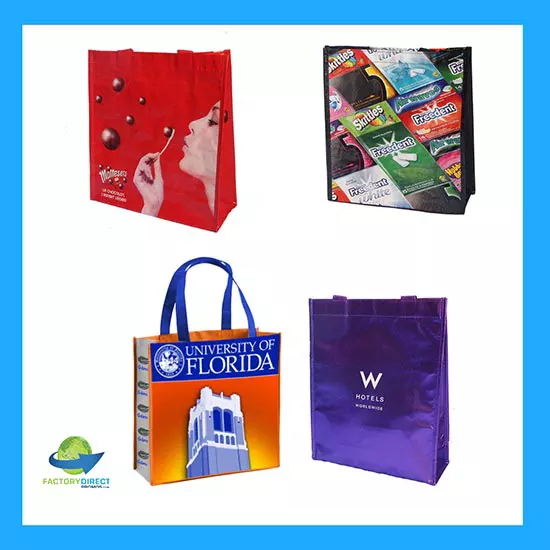 Design a Custom Reusable Bag and STAND OUT!
The more you can get your branding message in front of your clients the more likely they will remember it. This repetition is what makes promotional marketing so effective, but to really get all of the benefits of promotional marketing you need to customize the right item.
You want to select something your customers want and need, so they will be sure to use it.
Tote bags fit these requirements, and what makes them even better promotional marketing items is the ability to completely customize them.
We make it easy to design your own tote bag for your business. Find out why this matters and just how easy it can really be to design your own tote bags!
Eco-Friendly Marketing
Going green with your marketing is good for the planet and will certainly appeal to eco-minded customers.
Reusable products eliminate the use of disposable items which means fewer resources are used and there is less waste.
Plastic is bad for the planet and litter is everywhere. Promoting your business with reusable tote bags enables your customers to use fewer single-use plastic bags and over time, this can have a major impact on the amount of trash shipped off to landfills and the amount of litter in communities and the world's oceans.
Show You Care
Eco-friendly marketing also speaks to the integrity of your brand.
Choosing to promote your business with eco-friendly items sends the message that you take sustainability seriously, but it also lets your customers know that you value them.
Opting for well-made, quality items that serve a purpose and are built to last shows your customers that you understand and appreciate them.
Metrics Behind Promotional Marketing
Promotional marketing works, but being able to quantify just how effectively it works can help you understand the true value.
These brand-spanking new stats from the 2020 Advertising Specialty Institute Impressions Study helps reinforce the effectiveness of promotional marketing.
46% of consumers have a more favorable opinion of an advertiser if the promo product they received was environmentally friendly.
73% of consumers own promotional bags.
A logoed bag that costs $5 will have a CPI of under 2 /10 of a cent.
Promotional bags are kept an average of 11 months.
3,300 = The number of impressions promotional bags generate throughout their lifetime.
Get Designing
Designing your very own custom reusable tote bags can seem like a big task. You want to get it right, but just knowing where to start can be hard.
We get it, so we simplified the process.
We break everything down into easy-to-manage sections, so you can answer a few easy questions and end up with a completed design.
We're Here to Help
We know how to make the process easy and affordable.
These days you do not have the time or budget to waste on unproven marketing techniques.
Stick with a proven method and design your own tote bag for promotional marketing.
Tagged