4 Reasons Custom Insulated Tote Bags Are Perfect For Food Delivery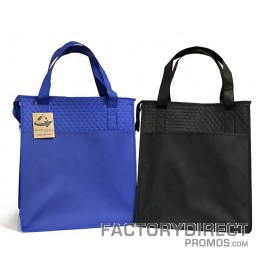 Learn Why Insulated Tote Bags Should Be Used for Restaurant Food Delivery!
The consumer's expectation of convenience has boosted the value and necessity of delivery options in the food industry. For restaurants that don't offer delivery themselves, mobile apps and delivery startups are filling those gaps. Creating a unique experience for the consumer in the food industry was once about face-to-face interactions.
However, according to McKinsey & Company, the worldwide market for food delivery stands at about $96 billion. That makes up 1 percent of the total food industry and 4 percent of business for restaurants and fast-food chains. For the next five years, there is expected to be an estimated 3.5 percent annual growth rate.
Nigel Travis, CEO Dunkin' Brands, told Business Insider, "Delivery will be the next wave." Travis continued, "It's going to be like a revolution, and I believe it will happen faster than anyone thinks."
Delivery is already a linchpin in the lives of many and will continue to grow as access to mobile apps and online ordering becomes the norm. Traditional packaging for delivery commonly features a combination of paper bags and single-use plastic bags. They serve a purpose, transporting the food from point A to point B, but value for your brand and the customer is being left on the table.
Below, we will explore 4 reasons why restaurants should invest in customized insulated tote bags as the successor to traditional food delivery packaging options.
Reduce the Impact on the Environment

Insulated tote bags provide an eco-friendly alternative to single-use plastic bags when delivering food. The impact that plastic bags have on our environment can't be ignored.

Consider the strain they can put on marine life. Nearly 90% of the debris in our oceans is plastic, and an estimated 300 million plastic bags end up in the Atlantic Ocean alone.

Improve Brand Awareness

A feature of insulated tote bags that single-use plastic or paper bags struggle to duplicate is the customizability. Ultimately, the traditional plastic bag options become trash after they serve their purpose, while reusable bags stick around. Promotional offerings are another factor that these bags introduce. Because of the customizable features, your brand can separate from a crowded field of competition by delivering unique brand experiences that extend past delivery.

With reusable bags, your brand's messaging can reach out directly to customers and resonate. To go a step further, customers can hold on to their delivery bags and continue to find uses for them.

Increase Customer Satisfaction

Reaching, and even exceeding customer expectations in the food industry is tough without adding new variables. That is exactly what insulated tote bags would represent for restaurants looking to connect with customers. When the food arrives, the insulated tote ensures that it will be as hot or cold as it was intended.

The bags are reusable, and that won't go unnoticed. It isn't just a potential play for delivery options either. Takeout experiences can be boosted by insulated tote bags as well.

Materials Are Reliable and Sturdy

Our insulated tote bags are sturdy, complete with 20" reinforced handles for increased durability. The insulating material will help maintain the optimal temperature of any food item while on the road. That way, when the food reaches its final destination, the customer is pleased with the result. While insulated tote bags can be used for a variety of food options, they are ideal for taking it on the go.
The Bottom Line
Shaking up the food delivery process can change the customer experience for the better. Insulated tote bags are reusable and provide brands with a unique opportunity to organically install their messaging into a major part of their business and create a totally custom item.
Contact us if you would like to learn more about the insulated tote bag options we can provide for your business.
Tagged