Reusable Wine Bags: Marketing Benefits of the Summer Sun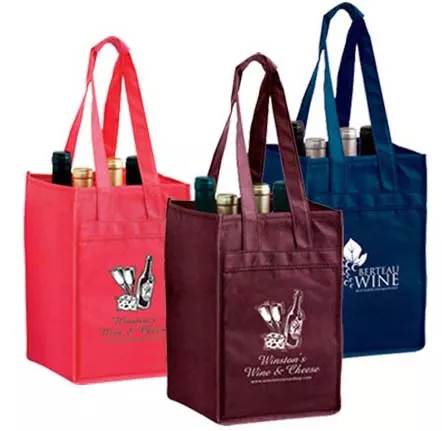 Provide Your Customers With a Stylish Way to Transport Wine This Summer!
Summer is exploding onto the scene and there are memories to be made. As a brand, you should be thinking about the ways you can capitalize on the uptick in activities and make your business the talk of the town. Putting a reusable wine bag into the hands of your customers, is just one of the many ways you can do this.
While the occasions will help to determine which wine bag to go with, it's important to understand your options. Let's take a closer look at some of the reusable wine bag options available and determine which is best for your brand this summer.
The 2 Bottle Wine Bag
The summer sun rises and your customer springs out of bed. It's a beautiful day. They worked all week, but Saturday morning has arrived and it's time to hit the beach with a group of friends. Their bag's packed and all the essentials are inside. A beach towel, sunscreen, sunglasses, a good book. You name it, it's in the bag.
The last thing they need to do is grab a couple bottles of wine. They head to their closet and grab their two-bottle reusable wine bag, which is made from recycled materials and provides a reliable means of transportation for the customer's wine. While your customer enjoys their day at the beach, your brand gains exposed to a wide variety of people that could one day turn into customers.
The 4 Bottle Wine Bag
The summer sun sets. Outside, the breeze rolls by with a relaxing chill. It's the perfect night for a neighborhood cookout. The family next door is hosting, so the responsibility of providing refreshments for the adults falls on your customer. They decide it's best to provide a variety.
Luckily, they have a reusable wine bag that can hold up to four bottles of wine; just enough to bring a little bit of everything. The durable handles and reinforced bottom are just a few reasons why these bags are built to last. Each time your customer puts this customizable bag to use, the branded message that it carries will spread.
The 6 Bottle Wine Bag
This trip to their friend's mountain house has been on the calendar for months, and the weekend has finally arrived. The group has set a goal to limit the amount of time spent away from the cabin, outside of the fun stuff, so everybody agrees to over-pack with the essentials. Your customer is prepared to hit the road, but they decide they shouldn't leave without bringing some wine.
The six-bottle reusable wine bag can fit enough for the whole party, and then some. The reinforced bottom and inside dividers increase the strength of the bag, making it a no-brainer for a weekend get-away. Everybody will remember who provided the wine and the connection to your brand will be natural.
Final Thoughts
Providing a reliable transportation method for wine is an easy way to turn a customer into a brand ambassador. With our reusable wine bags, your brand will gain more exposure with each use. The options for customization are expansive, including a variety of color options to choose from. Decide which message you are hoping to convey, and use the summer as a springboard.
If you would like to get started, start by checking out our variety of options for reusable wine bags. As a promotional product, they can carry your brand's message along with your customer's favorite wine.
Contact us for assistance throughout the process.
Tagged