Why Eco-Friendly Bags and Customers Go Hand-In-Hand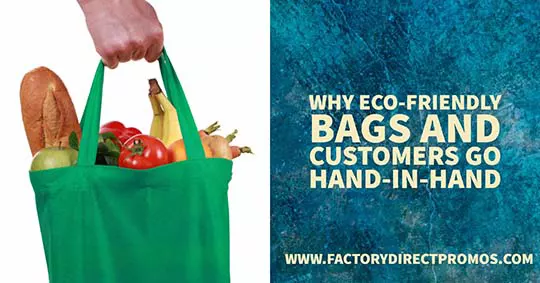 Promotional Products Help Your Brand and Your Customers
A good promotional product needs to achieve a lot of goals for your business. It needs to increase your brand's awareness and recognition. A promotional product needs to be something that appeals to your customers, because you need them to use it in order for it do it's job. If your brand has eco-friendly goals to live up to, that needs to be considered, too. With all of these factors it can be hard to zero in on just the right promotional product, or maybe not. Eco-friendly bags offer a lot of value to both your customers and your brand. Here's why eco-friendly bags and customers go hand-in-hand.
Make a Statement with Eco-Friendly Bags
There are a couple ways, reusable bags earns the eco-friendly distinction. A well-made reusable bag does the job of single-use bags. Disposable bags cause a lot of environmental harm, so reusable bags are eco-friendly by eliminating the use, and therefore, the impact of disposable bags.
The materials used to make eco-friendly bags is also significant. Fabrics made from sustainable plant fibers, like cotton, bamboo, and jute are eco options. There are also materials made from recycled plastic, which is good for the environment because it finds a new use and purpose for existing materials.
Eco-Friendly Bags Fill a Need
Plastic bags bans and fees are becoming more common, so there is an increased need for reusable bags. Even in places without bans or fees, some shoppers just prefer to bring their own eco-friendly bags. When you can provide your clients, and potential clients, with reusable bags you are giving them a functional item they can use.
This sustainable gift shows you customers that your brand is aware and tuned in to their needs, concerns, and preferences. Different styles of bags offer different advantages, so when you select your eco-friendly bags choose a style that will appeal to your customers.
Create an Ideal Promotional Product
Eco-friendly bags make excellent marketing tools because they can give a brand valuable exposure. The promotional benefits of reusable bags are two-fold. When a person reaches for a branded reusable bag they are reminded of the company and, over time, will become more familiar with this brand. When someone carries a branded reusable bag they are essentially carrying a sign and endorsing the brand.
Customers carrying a custom reusable bag can expand the reach of the marketing message and drastically increase the exposure the brand receives. To further sweeten the deal, a reusable bag can last for years, so you can really get the most value from your marketing budget.
Put Eco-Friendly Bags to Work for Your Brand
With plastic bag bans spreading across the country and the California bag ban firmly in place, marketing with reusable bags is an important component of your plan. Feel free to request our eco-friendly bag idea catalog to get some ideas for your branded, eco-friendly bags.
Tagged