3 Eco Friendly Bags to Successfully Market Your Brand
3 Eco Friendly Bags to Get Your Brand The Recognition You Need to Thrive
When you get to the point that you've decided to market your brand with eco friendly bags, next comes deciding just which bag will get the best return on your marketing spend for your brand. There is value in selecting the ideal eco friendly bags – well-designed bags will quickly become your customer's favorite and favorite bags get tons of use, or rather, lots of exposure for your brand resulting in a great return on your marketing spend.
Once you decide that the functionality and ease of use of eco friendly bags will get you a high value of marketing bang for your buck and successfully market your brand's message, you may think the bulk of your decisions are behind you. But at FactoryDirectPromos.com, we offer a variety of eco friendly bags that allow you to pick the exact style you want, that will function perfectly for your customers and prospects. This is an important step as you want to choose carefully so your clients and prospects will grab your eco friendly bag over and over again successfully marketing your company brand far and wide for many years to come.
Eco Friendly Reusable Tsunami Bags Can Take a Beating and Still Hang In There
At 13" x 15" x 10" our reusable tsunami bags are spacious without being so big it gets unwieldy. This bag easily takes on a full load of groceries and the handles are comfortable on your hands or shoulder. The reusable folding tsunami bags are constructed from laminated recycled plastic which is an eco option because it repurposes plastic and the lamination process makes the material a great option for a reusable grocery tote because it is thick, durable and water-resistant, which means condensation from frozen items or the mess from a leaky milk carton will be contained.
Eco Shopper Totes Deliver Dependable Use
You can always customize everything about all of your reusable bags, but our eco shopper totes are so handy you may want to keep the design just the way it is. Made from polypropylene, which is a recycled plastic, this eco bag will deliver years of dependable use and will market your brand every step of the way. Choose from a size of 16" x 12" x 6" or a slightly larger 20" x 16" x 6" for a bag that is big enough to handle trips to the supermarket, but still easily folds and compacts so you can stow in tight spaces.
Eco Wine Totes Are Great for Wine, but Can Carry So Much More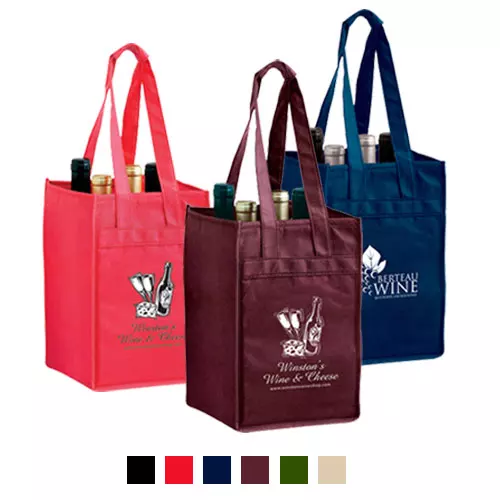 There is no easier way to transport bottles of wine than with our eco wine totes, but these eco friendly bags are so versatile, and can take on more than bottles of wine. The compartments are great for keeping containers whether wine or liquor bottles, soda bottles, jars of tomato sauce or basically anything separated and secure. Outfitted with 23" handles the weight of the load is evenly distributed and the reinforced bottom features a board that offers support and durability. The front slash pocket is great for business cards, a cork screw or other items. The durable design is functional while in use, but folds flat for easy storage.
It really depends on what your clients want and how they will use your branded eco friendly bags, but we have a wide selection of quality, well-made reusable bags that will certainly fit your customer's needs. Remember that you can customize all of our eco friendly bags, so if you like the tsunami bag, but maybe want to tweak the design that is no problem. Our top-notch design team is at the ready to help you customize your bag, so it looks and functions the way you need it to.
Fill out a Quick Quote Request in the upper right hand corner of this page to contact us and we'll get back to you as soon as possible about creating your custom eco friendly promotional bags to successfully market your brand for years to come.
Tagged