Recycling in Apartment Complexes Just Got Easy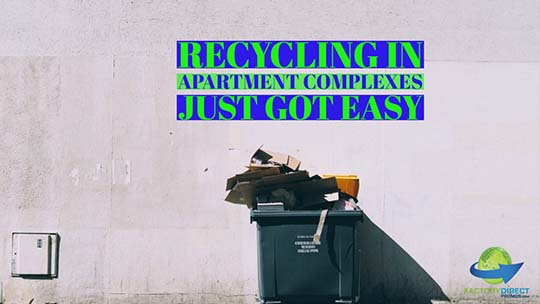 Find Out How a Bag is a Game Changer
Anyone who has ever lived in or managed an apartment complex knows firsthand just how much of a pain it is to recycle in apartments. There just isn't room for the large bins that works so well for curbside recycling programs, but tenants still need something to collect and carry recyclables. The simple solution lies in reusable recycling bags. These simple bags make easy work of recycling in apartment complexes.
Address the Problem
For apartment complexes with established recycling programs, tenants need a way to get their bottles, cans, paper and other recyclables from their apartments to the complex collection bins. This seems simple enough, but it can be a challenge. Bins or dedicated garbage cans are often too big and get in the way more than they help.
The compact and foldable design of reusable recycling bags makes them better suited to the job. Tenants can fold the bags for compact storage if they do not have any recyclables, or items can be tossed in the bags as necessary.
Simple Design
Reusable recycling bags are basic reusable bags with a few tweaks to improve the function of the bags. The durable laminated material contains spills to prevent messes. Long handles mean tenants can wear the bag over a shoulder for easy hands-free carrying. A handle on the bottom makes it easy to empty the contents of the reusable recycling bags into a collection bin.
Customize Your Reusable Recycling Bags
Everything about these bags can be customized. Change the size, material, adjust the handle length or do anything else that will help tenants recycle. The bags also accept full-color printing on all surfaces. Include useful information, like what items can be recycled, how to recycle items not accepted in the apartment complex program, and who to reach out to with questions.
Reusable recycling bags are the first line of defense when it comes to implementing a successful recycling program in an apartment complex. The information printed on these bags can help tenants understand how to recycle and increase the success of the program.
Let's Make This Happen
At Factory Direct Promos we work hard to create high-quality reusable bags and other promotional products, as well as reusable recycling bags. Our certifications include GOTS, Fairtrade, ISO 9001-2015 and FEDEX. All of these achievements are a testimony to our strong quality and social commitment. From small companies to large organizations, we help businesses of all sizes. Sign up for our newsletter to learn marketing tips and stay in the know regarding eco-friendly news.
Tagged