Get Organized and Promote Your Brand with the Bagonizer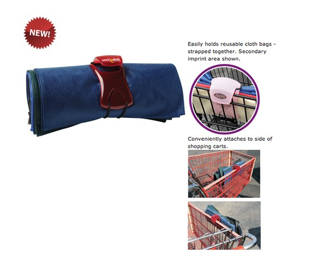 Keep Reusable Bags Neatly Bundled and Ready to Go
The Bagonizer is a handy device that makes it easy to grab your reusable shopping bags when you head to the store. Simply wrap up to 6 reusable bags together and clip them into the Bagonizer and you have a convenient bundle to toss in your car or take on the go. Since the device bounds bags together your days of looking for stray bags in the backseat or trunk of your car or getting to the checkout and realizing you forgot a bag or two are over.
The Bagonizer also features a clip so you can easily slide the Bagonizer onto the side of a shopping cart to securely hold your bags while you shop. When you get to the checkout and it's time to pack up your groceries, your reusable bags are easily accessible and not buried under all of your groceries! For added convenience you can also slip your shopping list into the Bagonizer, so everything you need when you go shopping is neat and tidy and ready to go.
Make sure bags are dry before wrapping them up and clipping them into the Bagonizer. If bags are damp due to leaky packaging or from thawing frozen foods make sure to wash and completely dry your bags before stowing them in the Bagonizer to keep them fresh and ready.
Create a Custom Bagonizer
Like all products from Factory Direct Promos the Bagonizer can be customized to fit your brand and style. Select from over two dozen colors and have your company name or logo imprinted on the Bagonizer and hand it out to your customers at your next trade show or give them out as a holiday gift. The Bagonizer is an especially thoughtful item if you have been marketing your brand with reusable grocery bags and you know your clients have amassed a collection of bags.
Each and every time your clients use your customized Bagonizer they will see your branding message and be reminded of your company. When the Bagonizer is clipped to the side of a shopping cart your logo will be put on display for other shoppers to see, so not only are you helping your clients stay organized but they are helping spread the word about your brand.
Tagged