April Showers Bring May Flowers…Time to Market with Seed Paper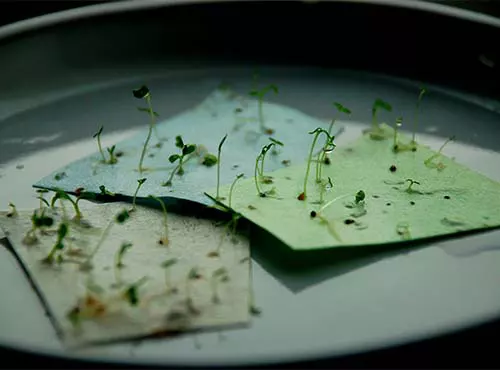 Summer Marketing Means It's Time to Market with Seed Paper!
Make your next marketing item stand apart and leave a positive and memorable impression. What to learn how? Check out our lineup of seed paper items. From postcards to die cut shapes to business cards and full sheets we offer a wide array of seed paper products that can be customized however you'd like to get the word out about your brand.
How to Make Seed Paper Work for Your Brand
Seed paper is just what the name implies – it is paper embedded with seeds. When the paper is covered with soil and given the right conditions the paper breaks down creating a really create mulch, and the seeds germinate. The plants grow and your customer will have a living plant that blooms and serves as a reminder of your brand. Seed paper is unique and interactive.
When your customers received your custom branded seed paper item they fill notice the unique texture of the paper and it will catch their interest. They'll want to find out what it is and when they find out they can plant it they likely will, just to see if it works. Each time they check on the flowers, your customers will think of your brand.
They may even tell their friends, family or coworkers about this really unique marketing item they received that actually grew flowers! Throughout this entire experience your customers will interact with your brand. Seed paper leaves an impression.
Make an Eco Statement with Seed Paper
Seed paper is about as green as marketing items come. The paper itself is sustainably produced, and it safely breaks down. The resulting plants are incredibly green, and as all plants do they will convert carbon dioxide into breathable oxygen. Our seed paper has a very high germination rate, which means if planted your customers are very likely to get plants.
Working with Seed Paper
Due to the seeds embedded in the paper the sheets have a very textured surface. This textured surface will grab your customer's attention. When people typically see the paper for the first time they want to touch it because it has such an interesting look and feel.
There are some key things to know about working with seed paper. The irregular surface is unique to each piece and paper and may lead to inconsistencies with printing. Printing the same file may look slightly different from one piece to another. In order to minimize legibility issues we suggest your design avoid thin fonts, because on the off chance a thin line overlaps a seed embedded in the paper it may not show up well.
The thick texture of the paper is great for letterpress printing, since it can hold a nice impression. Beware that if you letterpress print your piece some seeds may be crushed in the process, and it will impact the likelihood of those seeds sprouting.
Get creative and make a statement with seed paper. We have an endless array of different items, we can create fully custom shaoes and remember there are always full sheets. As always if you have questions about any step of the process or the item itself or if you'd like a quote we are here to help.
Tagged