Baby It's Cold Outside But Here's How to Warm Up Your Marketing for the Summer Ahead
Here's How to Warm Up Your Marketing for The Summer Ahead
The chill that has been covering most of the country is just starting to release its grip and while the warm months of summer are still a bit off, now is the perfect time to start thinking about how to market your brand with customized reusable water bottle and other products.
Make a Splash with Reusable Bottles
Reusable water bottles are ideal for staying hydrated during intense summer workouts or just on days when the mercury soars. We offer a wide array of fully customizable reusable bottles from stainless-steel, aluminum, recycled plastic and ultra-light BPA-fee plastic. Aside from the material, you can also select the style and size of your completely custom reusable bottle for something that your customers will reach for when they want to quench their thirst while also promoting your brand. You can also add a carabiner clip to many of our reusable bottles, so your customers can easily take your branded bottle along for the ride for even more promotion.
Take Treats to Go with Insulated Lunch Packs
Insulated lunch packs are great for toting lunch to work, but these versatile reusable bags are also ideal for taking snacks on a trip or keeping post workout treats chilled until you're ready for them. Our selection of insulated lunch packs can be completely customized based on your specifications, so you can add side pockets to hold a water bottle, or add a handle, or add a zipper to keep items secure or change the design however you want. You can also select the color and take advantage of full-color printing to make your marketing message pop.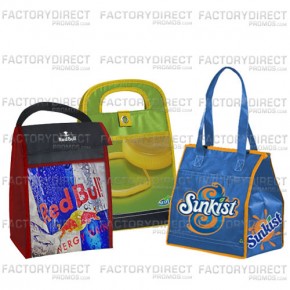 Give Yourself Enough Lead Time When Ordering Custom Products
The key to a successful promotional product is to create something your customers will want to use because the more they use it, the more they will see your marketing message and the more exposure they will give your brand. You want to take some time to think about what type of product you want and how you want this product to function.
We can completely customize your promotional product and our talented design team can help you select colors and add features that will make your product represent your brand and be something that is really handy to use. Factor in a week or two for design time and bear in mind that when you order from our in stock selection you will typically have your reusable product within 1-2 weeks and by comparison, if you order from our overseas production facility you should receive your custom products in 60-90 days.
By giving yourself adequate time you can create a reusable marketing product that will showcase your branding message and get your customers excited about your brand, but you need to plan ahead and start now to ensure your products are ready to go when the temperatures start to rise and the days get longer.
If you have any questions we are here to help! Our team can get you a quote and help walk you through the process!
Tagged