FREE Samples of Eco-Friendly Bags for Retail and Marketing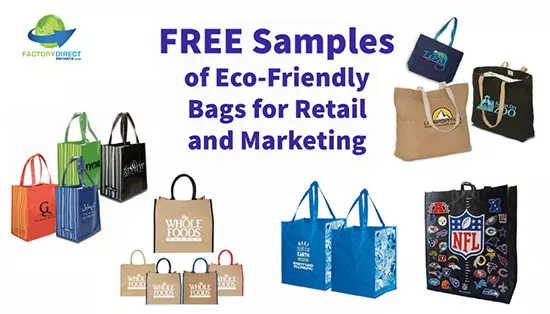 See Your Options Before Placing An Order
A custom promotional product is a big decision…but one that needs to be made these days in order to connect with and increase business with your key contacts. When you promote your business with a custom reusable bag, that bag will be out there promoting your business for a long time. It makes sense that you would want to select the right bag.
We make it easy to choose just the right reusable bag for your business, by offering samples of our eco-friendly bags for retail and marketing!
Here is what you need to know about eco-friendly bags and how we make it easy to order your next promotional item.
What Is Eco-Friendly?
When it comes to reusable bags, eco-friendly means the bag eliminates the need for disposable items and it is made from green materials.
Single-use items like plastic shopping bags are bad for the planet.
Single-use disposable bags are seldom recycled and can be very damaging to animals, ecosystems, and ultimately humans.
Reusable bags eliminate the need and use of disposable bags while also eliminating the problems caused by single-use plastic bags.
By utilizing recycled or sustainable materials, our reusable bags are eco-friendly. Recycled content makes use of existing materials and prevents the use of virgin materials. Plastic can be recycled again and again, so after your custom bags have fulfilled their usefulness, they can be recycled and repurposed into something new and useful.
Sustainable materials are plant-based fibers, such as cotton, jute, and even bamboo.
Sustainable fabrics are eco-friendly because they too can be recycled or even composted after they have served their purpose.
How To Order
We can help you create something totally unique for your brand while also fitting your timeline and budget.
We offer a selection of in-stock bags. These bags are already assembled, so you just need to send us your custom artwork and we can quickly print your bags. Our in-stock selection is ideal if you need your custom eco-friendly bags right away or if you need a small quantity.
If you want to further customize your eco-friendly bags beyond printing or if you need a large quantity, then you should consider our custom/bulk ordering.
When you use our custom ordering you can completely customize your bags since they are made to order. This means you can swap out the material, adjust the handle length, change the color of the gussets, add handles, pockets, zippers, or anything else that makes the bags look how you want while also functioning for your customers.
Since your bags will be made to order we can also support large quantities so you can place a large order and take advantage of our bulk pricing.
Get Your Eco-Friendly Bag Samples
Seeing samples of our eco-friendly bags makes it so much easier to select the right bag to be your next promotional item.
We can gladly send you samples of our bags and we're available to help you every step of the way.
Some of the other reasons to work with us, include:
We have been helping our customers create custom eco-friendly bags for over 10 years
We hold ISO certification
We have worked with many awesome customers, including American Express, Bank of America, Carnival Cruise Lines, Pepsi, The Home Depot, Whole Foods, and so many more
Browse our site, choose the eco-friendly bag you are interested in and contact Factory Direct Promos to ask for a FREE sample! It is that easy to try before you buy.
Reach out today and thanks for stopping by.
Tagged