Reduce Waste and Lower Your School's Environmental Footprint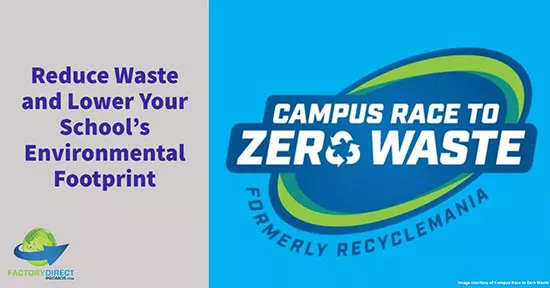 #GoReusableNow and Show Your School Spirit
The name is different, but the mission is staying the same. RecycleMania is now known as Campus Race to Zero Waste.
This organization strives to help colleges and universities across the U.S. and Canada find effective solutions in order to reach the goal of going zero waste.
This is an exciting program and one we really support. Going zero waste and reducing an environmental footprint can have a major impact on local communities and the entire planet.
Let's learn more about Campus Race to Zero Waste and the different ways we can help support schools in their efforts to reduce their environmental footprint.
Why Zero Waste
Plastic pollution is a big problem for the waste stream and the environment. As plastic trash builds up it causes landfills to reach capacity sooner. Plastic litter is a hazard to animals, their habitats, and the food chain.
Zero waste is the practice of managing and disposing of materials in a more responsible way.
Opting for reusable alternatives in place of single-use items is one method.
Another option is to recycle appropriate items. Plastic is unavoidable in some instances and it is ok to use plastic, as long as it is properly disposed of after it has fulfilled its usefulness.
Recycling eliminates trash in landfills and reintroduces materials into the manufacturing industry. Instead of sourcing new raw materials to create new plastic, manufacturers can use existing plastic over again.
Why Participate
Campus Race to Zero Waste helps colleges and universities better manage their waste stream while also introducing some friendly competition.
Through increased campus-wide recycling, schools are able to drastically reduce the amount of trash carted off to landfills while resupplying the manufacturing industry.
Schools are able to track their efforts and see how they stack up against other schools participating in the program. The program can help promote school spirit while also instilling environmentally friendly habits and raising awareness.
Find out what you need to know in order for your school to participate.
We Can Help Your School Reduce Your Environmental Footprint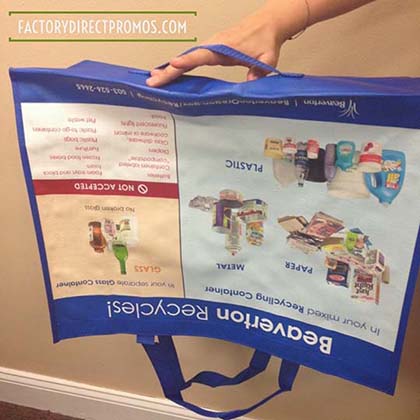 Going green is easy when you have the right tools.
Our reusable recycling bags are perfect for classrooms at every level as well as dorms. These reusable bags are designed to take the place of recycling bins. Recyclable items can be tossed in the bags and easily carried to a collection point.
Shoulder straps make it easy to hang the bag for storage and to carry the bag.
A handle on the bottom makes it easy to empty the contents.
These bags also support full-color printing on all sides. This means the bags can also function as an education tool.
Include artwork explaining the types of materials that can be recycled and list resources students and faculty can use to learn more and answer any questions they may have.
Let's Go Zero Waste
We are passionate about going green and we have been helping businesses and schools do just that for over 10 years.
During this time we have earned ISO certification and we've also learned how to make the process easy. We offer two ways to order to best fit your budget and timeline. We also offer an education discount so you can go green while showing your school spirit and saving money.
We are here to help if you have questions or want to create reusable recycling bags or other types of branded reusable items for your college or university!
Tagged