Certified Non-Woven Custom Reusable Bags Hit The Marketing Mark as Low as .69¢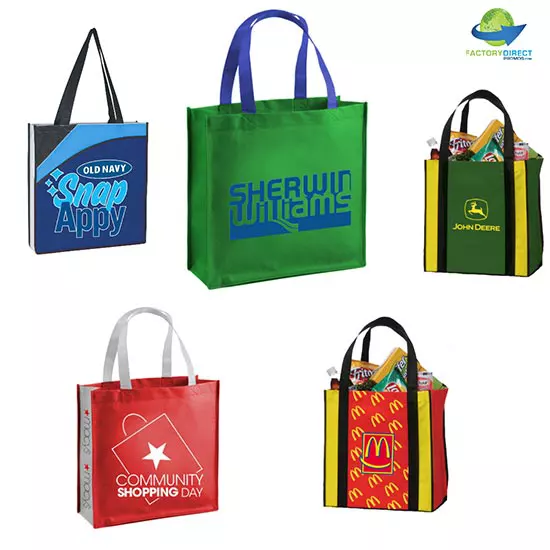 Make the Most of Your Marketing Budget with LOW PRICING on Certified Non-Woven Custom Reusable Bags
Managing a marketing budget isn't always easy, but it can be when you choose to market your business with custom reusable bags.
These bags come at a great price, are built to last, and will get your marketing message out there to grow your business.
Find out how these certified reusable bags can be completely customized to represent your brand and hit the marketing mark.
Advantage of Going Reusable
Reusable bags matter because they are eco-friendly. Reusable bags reduce litter which is important for the environment and even has an impact on the food chain.
Reusable bags also help conserve nonrenewable resources.
Design Your Custom Bag
Our custom reusable bags are truly customizable. These bags support full-color and spot color printing, so you can design a bag that functions like a mobile billboard. As your customers carry and use your custom branded bags they will promote and help grow your business.
Reusable bags are a strong marketing choice because they are in high demand.
Lots of people have a need and use for reusable bags which means your custom bags will get lots of use which means your branding message will in turn get lots of exposure.
Pick the Right Material
Everything about these bags can be customized, even down to the material.
We offer woven polypropylene, non-woven polypropylene, or RPET. Each of these materials makes great reusable bags and they are all made from recycled content. They differ in how the material is made and they each offer different advantages.
Certified Reusable Grocery Bags
No matter how you customize your bags, one thing all of these bags have in common is that they are certified reusable grocery bags.
CalRecycle established guidelines for what standards reusable bags need to meet in order to be considered certified reusable.
Our custom reusable bags meet these standards and have earned the distinction of being certified reusable.
This means these bags are durable and can handle regular use, so they will dependably promote your brand.
Order Your Way
If you need a large quantity or you want to really customize these bags then you should take advantage of our custom and bulk ordering. Your bags will be made to order which can help secure a better price.
If you need your bag quickly, then you'll want to order from our in-stock selection of bags. These bags are already constructed, so we can print your custom artwork directly on the bag of your choice and quickly turnaround your order.
Place Your Order
You're passionate about your business and we are passionate about helping our clients create their very own custom reusable bags.
Our team has decades of experience so they make the process efficient, easy, and even fun.
We have worked with some of the biggest brands in the business, like Whole Foods, The Home Depot, American Express, Pepsi, Bank of America, Carnival Cruise Lines, and more.
We are ISO certified and we work with clients selling a minimum of 250 bags up to the millions.
Get your customized quote on certified non-woven reusable bags.
Tagged