Benefits of Reusable Shopping Bags
Why Should You Use Reusable Shopping Bags?
Using reusable shopping bags benefit the consumer and the brand. They help the planet, and they help market your brand effectively. There are plenty of perks to toting your groceries in reusable bags. We've rounded up some of the benefits tied to reusable grocery bags. Read on to learn more.
Keep Landfills From Getting Out of Control

When single-use plastic bags end up in landfills it's bad news because they do not biodegrade, so once they're there they are there for good. Over time, disposable plastic bags will break apart into smaller pieces which can leach into the soil and theoretically into our water supply. Disposable plastic bags do not belong in landfills, but all too often that is where they end up.

Recycling rates for plastic bags are hovering around 12 percent, which means the remaining 88 percent of plastic bags put into circulation end up as litter or in landfills. When shoppers use reusable bags, they acquire less disposable plastic bags which means less will end up in landfills.

No Ugly Eyesores

Another perk of switching to reusable shopping bags and in turn reducing the amount of disposable plastic bags in circulation, is the reduction in litter. No one wants to see discarded disposable plastic bags stuck in trees or floating in a breeze. When shoppers use reusable grocery bags, there are less single-use plastic bags and ultimately fewer plastic bags handed out equals less litter.

Using Reusable Bags Protects Wildlife

Plastic bag litter is also a major threat to animals and their habitats. Millions of animals, primarily birds, turtles and marine animals die each year from ingesting single-use plastic bags, so do the planet and all animals a favor and make the switch to reusable shopping bags.

Put Your Brand Front and Center

Reusable shopping bags make great promotional tools because they can last for years, so your customers will carry your bag and get the word out about your company for several years. The actual price per bag is influenced by several factors, namely the style and materials used for the bag, as well as the quantity. Typically, the higher the bulk amount of bags you purchase the lower the price per bag, which translates into a phenomenal return on your investment. You can completely customize your bulk bag order to make it represent your brand and showcase your message so when your customers carry your bag, all of the folks who cross their path will see your branded reusable bag.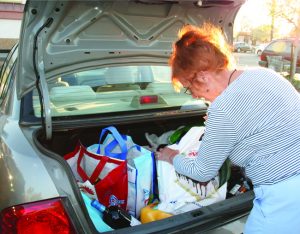 It's Time to Go Reusable Now!
Disposable plastic bags cause a lot of harm and many of the reasons that make reusable shopping bags so beneficial are solutions to the plastic-related problems. Reusable shopping bags are good for the planet through reducing the use of disposable plastic bags, and reusable bags are good for your brand by getting your info in front of your customers.
Can you think of other benefits to using reusable shopping bags? Did we miss something? Let us know in the comments!
Tagged