5 Tips to Keep You Healthy and Happy Using Your Reusable Bags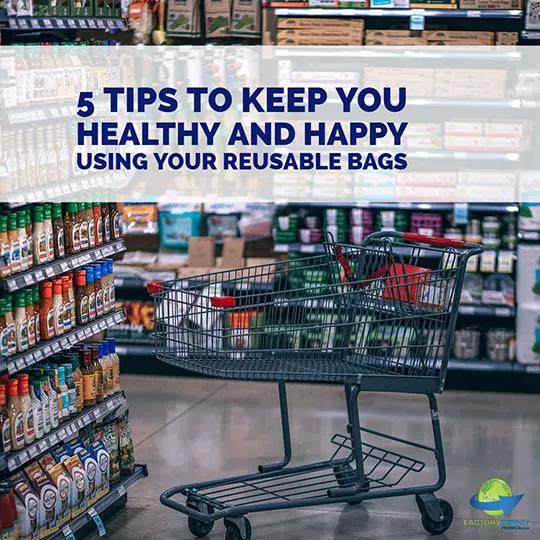 Learn How to Easily Maintain Your Bags
Reusable bags are safe and convenient, but they do require some routine care. Find out five simple tips to keep you healthy and happy while using your reusable bags.
1. Use Separate Bags
Designate bags for specific purposes. This tip is two-fold. First, set aside bags for grocery shopping and only use those bags to carry groceries. It's useful to have other reusable bags on hand to carry items for work or to use for your yoga mat or gym gear or for just about anything else but keep these bags separate. Using the same reusable bags for everything can transfer germs and bacteria. Designating bags for specific uses ensures germs or whatever grossness is present on the bottom of your gym sneakers is not transferred to the fruit your purchased to snack on.
The second part of this tip is to further designate your reusable shopping bags. Dedicate a bag for meat, another for produce, another for dairy and one for dry goods. Adjust the quantities as necessary to fit your needs. The premise is essentially the same: you want to prevent cross-contamination. When things are kept separate you don't have to worry if a package containing raw chicken leaks and the only other items exposed are meat, which you would cook anyway.
2. Color-Coded Your Bags
Make it easy to keep your bags separate and tell them apart by color-coding your bags. For instance, if you always put produce in a green bag and dairy in a blue bag, it's easy to keep everything straight. Just in case you are prone to forget, or if you have identical bags, you can use a permanent marker to label your bags. If you decide to label your bags, just make sure to label on the same area, so you know at a glance which bag is which.
3. Store Bags in a Clean and Dry Place
Protect your bags from exposure to bacteria and germs when they are not in use, by storing them in a clean and dry place. It's important to let your reusable bags air dry. Crumbling the bags up and cramming them in a tight space will prevent the fabric from drying out and can create the ideal conditions for mold and mildew.
4. Don't Keep Bags in Your Car
Depending on where you live and the time of year, cars can heat up. The warm temperatures in a car can cause bacteria on the bags to thrive and grow. Leaving your bags in your car for just a few hours can have a major impact. The best solution is to not get into the habit of storing your reusable bags in your car. Alternatives can be to store your bags on a coat rack near your front door or to hang them in your pantry or a closet.
5. Regularly Wash Bags
The best way to ensure you stay happy and healthy while using reusable bags is to wash your bags. Some bags may feature washing instructions. If not, wash your bags by hand using warm, soapy water. Let your bags air dry, and they will be good to go.
Stay Happy and Healthy
Reusable bags make great promotional products, but they require a bit of care and maintenance. However, when you put these tips to use you are able to use your reusable bags in a safe manner. At Factory Direct Promos, we work hard to ensure our customers receive quality products manufactured in a socially conscious way.
Our certifications include GOTS, Fairtrade, ISO 9001-2015 and FEDEX. We service small and large organizations that want to order between 250 and 10 million pieces per year. Sign up for our newsletter to learn more tips, learn about the bag ban movement and score great deals on custom reusable bags.
Tagged