3 Ways Green Marketing Helps the Environment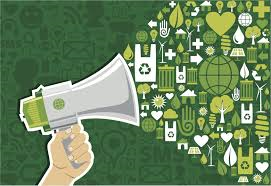 Your Business Can Make a Difference with Green Marketing
When you implement green marketing measures you are getting the word out about you brand and helping the environment. Why not put this win-win system to work for you as you reach out to your customers and do right by the planet.
Here are Three Ways Green Marketing Helps the Environment and You, Too
Utilizing Green Materials Reduces the Environmental Impact of Your Marketing Campaign –  When you create promotional materials look for ways to make them green by using recycled or sustainable components. There are so many uses for recycled plastics these days from promotional items to the fabric of reusable shopping bags, and materials like cotton, jute and bamboo are sustainable which means they can be planted, grown and harvested over and over again. Such materials will lessen the environmental impact of your message, so you can still establish and maintain your brand awareness without damaging the planet.
Green Marketing Raises Awareness of Your Brand and Environmental Issues – When you utilize green marketing techniques you bring attention to environmental concerns. This attention will shine a light on issues and help your clients learn about things they may not have known about, or not have understood, and this awareness will ultimately help the environment because people cannot support issues when they are not aware of them. Even if your clients do not support the issues you do, just knowing that you are aware and involved with issues you find near and dear will help humanize your brand. Whether you rally support for the environmental issue you believe in or if you gain support for your brand, your green marketing will be a success.
Lead By Example and Show Clients How to Go Green – When you incorporate green marketing into your campaign and show your clients how you support environmental issues, not only will you raise awareness of the issues you support but you are also showing your customers how to be green and garner support for issues you believe in. If your clients choose to take up the green issues you back that's great, but if they learn from your example and use their marketing campaign to highlight environmental issues they find important that's great, too.
Green Marketing Matters
Green marketing techniques help the environment in so many ways and allow you to spread awareness of your brand at the same time. When you choose to implement green marketing practices, you will not only help your brand but you will help the planet. These were just three ways green marketing helps the environment. What green marketing practices have you implemented? Share your thoughts below in the comments!
Tagged