Why OMG Means Go Reusable Now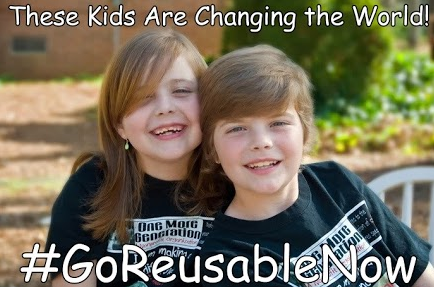 OMG Leading the Way for the Next Generation of Green
Carter and Olivia, two siblings from Fayetteville, Georgia both share a passion for wildlife and conversation and they are looking to change the world for the better. Initially these two were focused on conservation so they did research which led to the creation of their nonprofit organization OMG (One More Generation), the objective of which is to preserve endangered species.
Through several turns of events, Olivia and Carter have learned a lot about animals and the environment. While conservation is still a cause that is near and dear to both of them, they have also encountered and learned about other environmental issues such as the damage caused by disposable plastic bags, and they are looking to tackle this problem too.
Plastic Awareness Coalition
Plastic litter in general is a problem, but single use plastic bags are major offenders.

Olivia and Carter realized this fact and they also understood the impact single use plastic bags have not only on humans, but also on wildlife as well.  They came to understand that all of the hard work they and others do saving animals could be for nothing if those animals don't have a safe and clean habitat. Armed with the knowledge of the harm single use plastic bags are responsible for,  the two started the Plastic Awareness Coalition with the intent of partnering with other organizations to raise awareness and present a united front when working towards plastic reduction measures, such as disposable plastic bag bans.
Change Through Educating Future Generations
While the work being done by the Plastic Awareness Coalition is certainly worthwhile, this ambitious twosome decided they could do more.  In 2010 Carter and Olivia worked with teachers to create the Plastic Awareness Week curriculum. This program aims to teach elementary students about the environmental harm plastic is responsible for and empowers students by teaching them how small changes they and their families can make in their day to day routines, can lead to big results.
Participating students are given a stainless-steel water bottle and a reusable bag to help put what they learned in the classroom into action. It is Olivia and Carter's goal to get the Plastic Awareness Week curriculum into every elementary school in the U.S..  So far the program has been a huge success in the schools that have brought it on.
Power in Numbers
It's always great to see people get involved and help the cause, but it's extra exciting when young people get involved and when they take on such a leadership role because if this is what they're doing now what will they be doing when they're older? Carter and Olivia have done a great job identifying problems and looking for realistic solutions which they are very hands on in implementing. By reaching out to their peers they are posed to create an entire generation of students who are just as informed and passionate as they are concerning conservation and the environment. We anticipate it won't be long before we can add Fayetteville, Georgia to our bag ban map and we look forward to reading more about Carter and Olivia's future endeavors.
Reference
http://onemoregeneration.org/our-founders/
Photos
http://onemoregeneration.org/our-founders/
Tagged