The Perfect Reusable Grocery Bags at Wholesale Pricing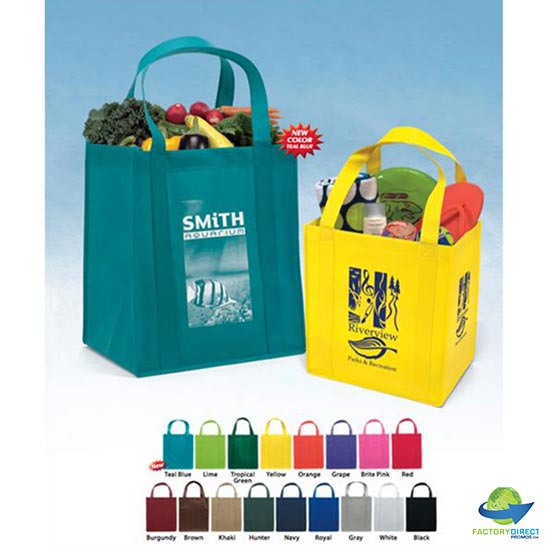 Promote Your Business and Help Your Bottom Line
Promotional marketing is a great way to increase your brand's recognition, but you need to select the right product in order for promotional marketing to work. Reusable grocery bags are possibly the perfect promotional product because they are something everyone needs and can use.
Looking for a great bag that will be a favorite for picking up groceries or a myriad of other uses? Our reusable grocery bags are really all-around versatile bags for retailers, as well as marketers.
Here is why you should consider adding our reusable grocery bags to your retail and marketing lineup.
These Reusable Grocery Bags are Built to Hang In There
A custom reusable grocery bag is only as good as the construction.
A well-made bag that will stand up to regular use will be appreciated by your customers and routinely put to use. This regular use will also create more opportunities for your branding message to be seen.
Our reusable grocery bags are certified reusable by CalRecycle. This means these bags are designed to hold up under regular use for dependable results.
Reinforced handles and 100 GSM material means these bags can handle a heavy load with ease.
These reusable grocery bags are made from a non-woven polypropylene material which is a recycled content fabric. While helping to reduce plastic waste by repurposing existing resources, the reusable design makes these bags eco-friendly, and the recycled content increases the environmental friendliness of these bags.
Customize Your Reusable Grocery Bags
Our reusable grocery bags are available in two sizes (12″W x 13″H x 8″G and 13″W x 15″H x 10″G), so you can choose the size that best works for your customers. You can also choose from 17 bag color options.
Once you have made those decisions, you just need to send us your artwork and we can create your custom reusable grocery bags from our in-stock selection.
If you want to further customize your reusable grocery bags or if you want to order a large quantity you can take advantage of our custom/bulk ordering.
In this instance, your bags will be made to order, so you can change anything about the design of the bags if you'd like.
You can change the size, add pockets, lengthen the handles, or anything else that will help the bags perform for your customers.
Wholesale Pricing
All of our bags are available using wholesale pricing. This enables you to take advantage of a lower price point. Our custom/bulk ordering is a great way to further lower the price per bag.
By increasing the quantity of the bags you order, this will drive down the unit price and allow you to make the most of your marketing budget.
Reusable Bags are Safe
The COVID-19 pandemic has caused people to evaluate a lot of aspects of everyday life.
Reusable grocery bags are not a cause for concern during the pandemic.
According to the World Health Organization, "The likelihood of an infected person contaminating commercial goods is low and the risk of catching the virus that causes COVID-19 from a package that has been moved, traveled and exposed to different conditions and temperature is also low."
Create Your Own Reusable Grocery Bags
We are dedicated to the work we do and we have been for over a decade.
We strive to help our customers and the planet. This is apparent in the various ISO certifications we hold. We do our best to save time and money and we pass these savings along to our customers.
Shop one of our favorite reusable bags for grocery shopping…and your successful marketing!
Tagged